Author
CTE Staff
Published
April 24, 2022 - 10:00am
Diversification is essential to successfully navigate a changing market landscape. For Indian Mountain Machine Shop Inc., integrating a new customer required the purchase of anti-vibration tool bodies, or toolholders, when turning parts with challenging features and surface finish specifications. The shop has 12 employees and operates nine CNC lathes and four CNC mills, in addition to a couple of rarely used manual machines.
Located in Jellico, Tennessee, Indian Mountain Machine Shop has long served some of the bigger names in the mining and excavating industries, but owner and operator Jerry McNealy said that part of the business has fallen off in the past six or seven years. To help fill this gap, the shop landed work turning long, thin parts made of 6061 aluminum in which their aesthetics played an equal if not more important role to the tolerances when produced.
"Their claim to fame is cosmetics," he said. "The parts require a fine surface finish because the customer polishes many of the components to impart a 0.0254 to 0.0508 µm (1 to 2 µin.) surface finish prior to plating them, sometimes with gold."
McNealy said the worse the finish is when coming off the turning center, the longer the customer then must spend polishing, some of which involves intensive, expensive manual labor.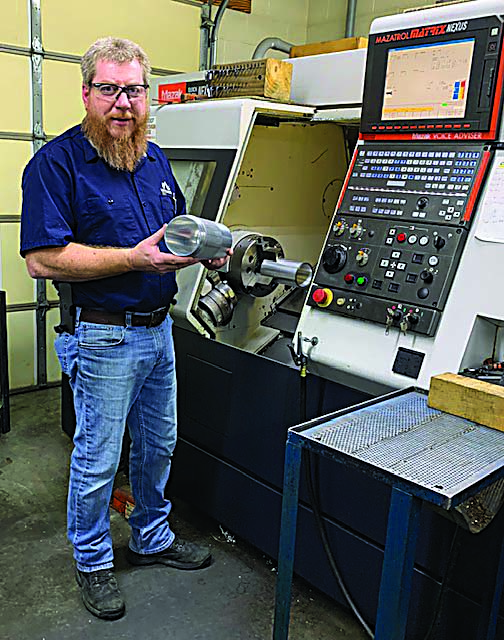 "What I give them is anywhere from a 20 to 30 µin. (0.508 to 0.762 µm)," he said.
Achieving that finish with the several brands of anti-vibration bars that Indian Mountain Machine Shop had for holding turning inserts required running at a low
spindle speed, such as 300 rpm, and a corresponding low feed rate. As a result, McNealy said the project would consume too much time and that the finish still would not be fine enough.
"When we first began running the parts, I went over to my toolbox and got the best 1.25" (31.75 mm) anti-vibe bar that we'd previously had, thinking that we might just try with it first and see how it went," he said about turning parts that were 228.6 mm (9") long. "Using this bar, however, we only ended up with what I figured to be a low rpm, slow speed and a very poor finish. This particular part we were working on was going to take up to an hour and 15 minutes to rough and finish the bore."
For a solution, McNealy turned to Gary McNealy, a cousin who previously had worked at the shop and is now a territory manager for industrial distributor Jones Marketing Inc. in Jellico. Gary suggested an anti-vibration tool body that features a self-tuning mass damper from Saltsjo-Boo, Sweden-based MAQ AB.
"I said, 'I'd try one, and the timing couldn't be better,'" Jerry said.
He said the initial parts that Indian Mountain Machine Shop turned with an STMD tool measured 165.1 mm (6.5") long and had wall thicknesses from 0.762 to 1.016 mm (0.03" to 0.04"). The shop eventually progressed to producing parts, such as a stainless steel part, with thinner and thinner wall thicknesses.
"I have been doing this for 33 years," Jerry said, "and I would have never believed that we would do a 0.005" (0.127 mm) wall-thickness part. I just thought that that was not doable."
With MAQ's STMD bar, he said the shop now roughs and finishes the 228.6 mm-long parts using the same bar in less than 15 minutes.
"The finished product was checking in at under 20 µin. and was absolutely immaculate," Jerry said.
He said Indian Mountain Machine Shop doesn't save quite as much time when turning all the parts but typically reduces cycle times by 15 to 30 minutes, with spindle speeds up to 1,000 or 1,200 rpm.
"It's still turning at 0.005 ipr," Jerry said, "but the revolution is sped up so fast that it's doing a lot better of a job."
Additionally, the customer used to spend 15 to 20 minutes polishing each part to achieve the finish that the parts now arrive with. By targeting a surface finish of at least as fine as 0.762 µm, he said the customer avoids having to sand and polish parts that specify only a 0.8128 µm (32 µin.) finish.
"Some parts can even be cleaned and shipped straight to plating," Jerry said.
The shop has four STMD tool bodies and is considering switching exclusively to the MAQ product whenever an anti-vibration bar is required, but he said the shop continues to use its other anti-vibration bars for work in which they function sufficiently.
"I've definitely been around the block enough to recognize a game changer when I see it," Jerry said.   
---
For more information from MAQ about its self-tuning mass damper technology, view a video presentation at cteplus.delivr.com/2vgtc