Author
Michael C. Anderson
Published
July 01, 2016 - 12:15am
Michael Finklea believes that there isn't much reported on sawing in the manufacturing trade press because "it's kind of the redheaded stepchild in the industry—an unappreciated part of the manufacturing process. In most shops, the least-skilled person is running the saw."
Manufacturers ignore what improved saw technology can do at their peril, however. As it's usually at the start of a shop's manufacturing process, what happens there affects all that follows. "If you can cut your material straighter, faster and closer to tolerances, you can save money," said Finklea, director of sales and marketing, North America, Cosen Saws USA, Charlotte, N.C.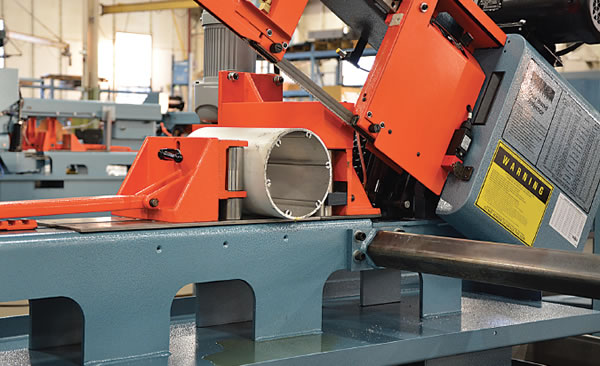 A DoALL saw cuts round pipe. Image courtesy DoAll Sawing Products.

Industrial saw professionals reveal a technology that has changed in many ways over the years—and is still evolving.
That Old Saw
Brad Coombs, logistics and expediting manager at Clausing Industrial Inc., Kalamazoo, Mich., has been watching saw technology evolve for decades. "I remember when they were designing bandsaws by making prototype models out of wood and cardboard to make sure everything would fit before transferring their ideas to paper blueprints—a long, drawn-out process," he said. "The last one I saw being designed like that was in the 1970s. Once CAD software came around, things started to get much easier and faster."
CAD had a quick impact on bandsaw mass, according to Coombs.
"With the use of CAD, they were able to take out a lot of the weight of the machine," he said. "They used to make [sawing machines] so beefy that you could never hurt them. You no longer have to have a great big chunk of cast iron. Instead, you have something functional, but much lighter."
Finklea concurred. "More and more saws, including ours, are going with linear rails rather than the old ground column. Instead of having this big 6" ground column, we have two 1" linear rails that have cylinder-type bearings instead of ball bearings."
Kurt Plechaty, executive vice president of DoALL Sawing Products, Savage, Minn., noted the addition of variable-frequency drives with easy-to-use controls gives users greater flexibility.
"Twenty years ago, your speed ratios were achieved with gears or belts," he said. "Now, variable-frequency drives are priced such that they can economically be used in saws as well. So a lot of speed controls have evolved accordingly. Customers can really dial in to just the parameters they need."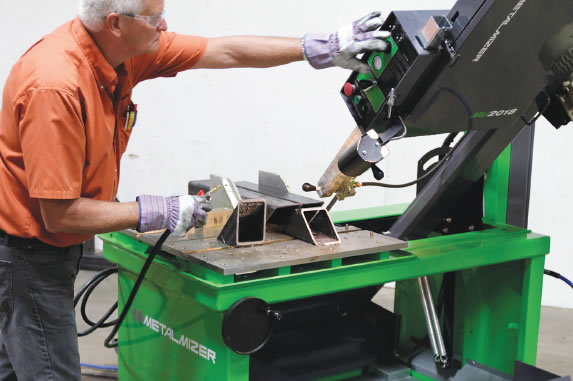 A user checks the angle controls on a MetalMizer vertical bandsaw. Image courtesy Wood-Mizer.

Other major improvements Plechaty noted are programmable operations and the ability to download jobs for storage and retention.
"Traditionally, a user would adjust speeds and feeds based on how the cutting sounded, how it felt, each time," he said. "Now, when he finds the optimal parameters, he can save them and go back to them any time—rather than rely on what one operator thinks it sounds like compared to what another operator thought it sounded like."
Coombs concurred that the ability to retain jobs electronically has been a game changer.
"In the old days, someone might be cutting something all day long, learning how to get the parameters just right, but then he'd go on to another job. Then, say 2 weeks later, he has to go back to the first job and has to remember how he did it. Now he doesn't have to remember—he can just call up job No. 42, or whichever, and off he goes," Coombs said.
Dave Gillaspy, MetalMizer Product Manager, Wood-Mizer LLC, Indianapolis, explained how relatively small advancements in saw design helped. "MetalMizer got its start because hands-on fabricators wished their cutoff saw would just tilt a little bit forward, cut at a 45° angle in either direction, have finite adjustments on the feed force, and could offer all this without a bunch of bells and whistles," he said.
The move from reliance on hydraulics to ballscrews is another improvement, according to Cosen Saws' Finklea.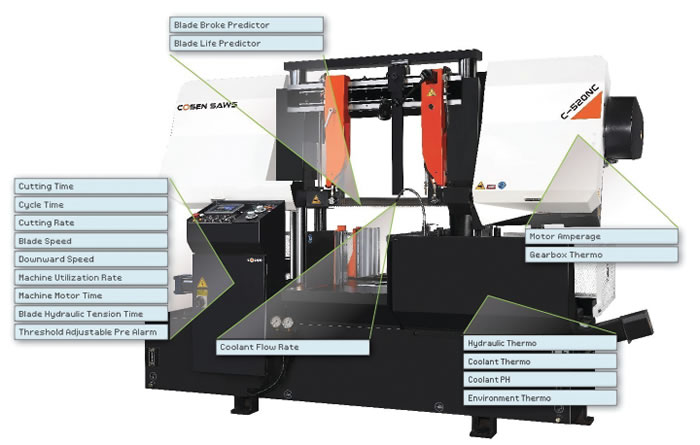 Cosen Saws' MechaLogix device allows for Industry 4.0-level integration of the saw into a smart factory setting. Image courtesy Cosen Saws.

"The old machines were hydraulic, where now more bandsaws are going to more-accurate ballscrews," he said. "A ballscrew downfeed gives you the ability to control your entry and exit speed." When cutting round bar, for example, the saw cuts faster in the first third, then it gets into the middle third—where "the meat" of the material is—and the user wants to be at optimal speed for that section. But when cutting the bottom third, the saw can again go faster because it's cutting less material. "A ballscrew allows you to have that continuous rate coming down."
The simplicity of the ballscrew is another advantage, Finklea noted. "With hydraulics, there is more that can go wrong. You've got solenoids, piping and so on. It's much easier to maintain or troubleshoot a ballscrew."
Current Customer Concerns
New materials to be cut and higher expectations of speed and accuracy are further raising the bar on what today's saws can do. Finklea said his customers need for speed brought about Cosen Saw's V-Drive—"proprietary software and hardware that we put into a machine that allows us to more quickly cut hard-to-cut materials, such as 15-5 PH stainless steel," he said. "Typically, you can cut that at 2 to 3 sq. in. per minute on a bandsaw. With the V-Drive installed, and with the same blade, you can cut in the 6 to 10 sq. in. per minute range while maintaining blade life." The technology works by suppressing harmonics and vibration, so the blade can be run faster.
For Clausing Industrial's Coombs, waste and scrap is a growing focus for some customers.
"With some of these exotic materials, the kerf is valuable—they want it back," he said. "I've done test cutting on such material—they practically send it here in a Brinks truck. The test piece itself is worth a couple thousand dollars. Usually, it's a superalloy of some type."
DoALL's Plechaty said his customers too are showing concern about waste reclamation—but not all in the same way.
"Customers that cut steel seem to have few issues, due to opportunities to recycle, but customers that cut carbides have major concerns about minimizing waste material," he said, adding that they reclaim the dust when cutting green carbide and make more carbide out of it. "Similarly, people with ceramics reclaim and reuse the dust."
For MetalMizer's Gillaspy, an ongoing concern of customers is waste of space—they want a saw with a tight footprint. "Our customers want a smart unit to supply the cutting capacity and capabilities without taking up valuable production floor space," he said. "Manufacturers know that a machine's footprint and placement can make all the difference in material flow, efficiency and profit. A unique design can accomplish all of that without compromising productivity if the controls, drives and cutting surface are optimized for the operator and for output."
Cutting Edge
The industrial saw seems to be heading in the same direction as other manufacturing technologies: toward integration. A small but growing number of users seek to integrate saws into automated cells and even smart-factory, information-sharing systems.
"It's still kind of rare, but we do have customers interested in integrating saws into cells," Coombs said. "We'll occasionally get an order for a variety of machines—a couple lathes, a couple drill presses, a saw—and it's all going into a work cell."
"We have a recent product called 'MechaLogix,' a full Industry 4.0 monitoring/communication device that we can put on our bandsaws," Finklea said. "It predicts blade life and breakage and can send it to the cloud, so it can be accessed by phone from anywhere."

Contributors
Clausing Industrial Inc.
(800) 323-0972
www.clausing-industrial.com
Cosen Saws USA
(877) 729-4681
www.cosen.com
DoALL Sawing Products
(888) 362-5572
www.doallsaws.com
Wood-Mizer LLC
(800) 553-0182
www.woodmizer.com