Author
Evan Jones Thorne
Published
May 01, 2015 - 10:30am
It's no surprise that cutting fluids are complicated. It's important to strike a balance between cooling and lubricating, between antimicrobial properties and environmental concerns, between sticker price and sump life. But some applications demand more than a good-quality coolant or lubricant—some processes and materials require specialty products.
Machining magnesium is one of them. To this end, Blaser Swisslube Inc., Goshen, N.Y., offers its Blasocut BC 37 Mg, a cutting fluid formulated for magnesium's unique properties.
"When machining magnesium, a lot of difficulties arise," said Randy Templin, vice president-product line management at Blaser. "First, it raises the pH of the fluid. This can cause foaming, staining of the material and hard magnesium deposits on the tooling and machine. Dissolved magnesium builds up in the fluid, which splits or separates most metalworking fluids. In addition, hydrogen gas is released when magnesium reacts with water."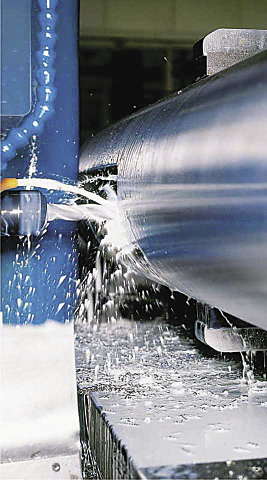 Machining titanium requires a high level of lubricity and a high degree of cooling capability. Image courtesy Blaser Swisslube.
To combat these potential issues, BC 37 Mg has a proprietary emulsifier and pH buffer. The emulsifier is notable, Templin explained, because most oil-based water miscible fluids use an anionic emulsifier,which would be separated by the positive charge of the dissolved magnesium and cause the emulsion to break down. At the same time, other types of emulsions can be too hard, causing foaming or staining. "It requires a special type of emulsifier system to stay stable in the end-use dilution," he said.
The pH control also needs to be specially formulated, Templin continued, because of the inherent pH increase when magnesium reacts with water.
"You need a special pH buffer to make sure the pH stays in a good range, around 8.8 to 9.2. BC 37 Mg is designed to start with a low pH and raise naturally through the machining process," he said, adding that general-machining fluids often start with a pH of 9 or above.
And while a gallon of BC 37 Mg costs about twice as much as a general-purpose coolant, the rate of consumption is comparatively low, Templin explained, so the actual cost isn't substantially higher. In addition, the formulation is mild, meaning it is gentle on the machinist's skin and the machine tool.
Carbon fiber-reinforced plastic (CFRP) is another challenging material and many shops are accustomed to machining it dry, according to Scott Daggett, national aerospace specialist at OSG USA Inc., Glendale Heights, Ill.
"Carbon fiber-reinforced plastics are, in many cases, just a bunch of layers of reinforced tape," he explained. "The first layer has carbon strands going in one direction, the next layer is at a 45° angle, the next is at 90°, and they keep alternating to reinforce the material's overall strength. The worry is that some fluids can penetrate those layers and compromise the structural integrity of the part."
Aerospace OEMs perform extensive testing to determine what effects a coolant will have on a composite before they allow their part suppliers to use it, Daggett said. Castrol, for example, offers its Syntilo 9828 water-soluble synthetic, which Boeing and Bombardier have approved for cutting composites.
"Prior to that testing, everyone cut composites dry," Daggett said. "Composites are carbon-based, and when you begin to cut them the powder releases from the cut and starts getting everywhere—into the machine, all over the shop. I've even taken a toolholder out of the machine and had a big puff of carbon shoot right into my face. We have vacuum systems set up to deal with it, but a coolant would be much more effective because it would keep that powder from floating in the air."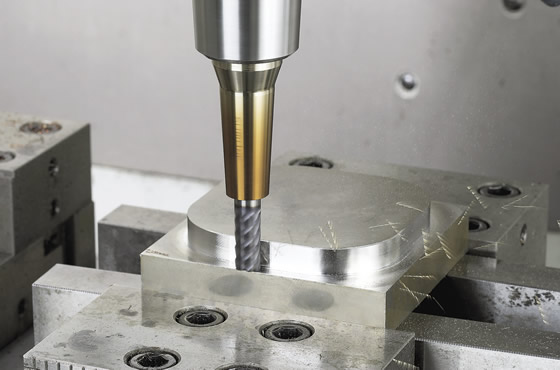 Some manufacturers eschew fluids entirely when hard milling to avoid thermal cycling, which can damage the cutting tool. Image courtesy Blaser Swisslube.
In addition, cutting titanium, which is heat-resistant, necessitates a coolant with high lubricity to maintain tool life and high wetting ability to properly lubricate and dissipate the heat. Blaser Swisslube's Vasco 7000 is an ester oil-based microemulsion, which Templin described as multimaterial friendly, but designed with titanium in mind.
"When machining titanium, you need very high lubricity to maintain tool life, but you also need to cool the tool/workpiece interface during the cut—being such a heat-resistant material, the heat from that interaction just goes into the tool without proper cooling."
Besides material-specific fluids, a host of application-specific ones are available. Tapping is an example. "A tap is a very delicate tool," Daggett said. "If the tap breaks, a lot of people want to say it's because they need a better tap; that could be the case, but more likely, the hole you were tapping wasn't good enough quality, or you didn't have the right coolant."
Instead of water-soluble fluids, he recommends cutting oil or Molly D tapping paste at a high concentration to improve tapping performance and enable the extra lubricity to protect the tool. However, past a certain point, higher concentrations can pose health risks, such as dermatitis, so finding the proper balance is essential.
Some shops eschew fluids entirely when hard milling, because coolant can do more harm than good. Daggett explained that the tool generates a lot of heat when it enters the cut, but as soon as the cutting edge exits the cut, coolant rapidly quenches it.
"Over time, thermal cycling causes microfractures in the tool," he said. "As long as the temperature is below the oxidation temperature of the coating, when cutting without flood coolant the tool remains more consistent than one that goes through the thermal cycling process seen with flood coolant. As a result, a lot of shops will either use air to clear chips or minimum-quantity lubrication."
Ultimately, an operation is only as good as its weakest link. "If you're not using the right cutting fluid, you probably aren't going to get the results you're after," Daggett said. "It's that simple." CTE
---
About the Author: Evan Jones Thorne is assistant editor for CTE. Contact him at (847) 714-0177 or ejonesthorne@jwr.com.