Author
Susan Woods
Published
July 01, 2013 - 10:30am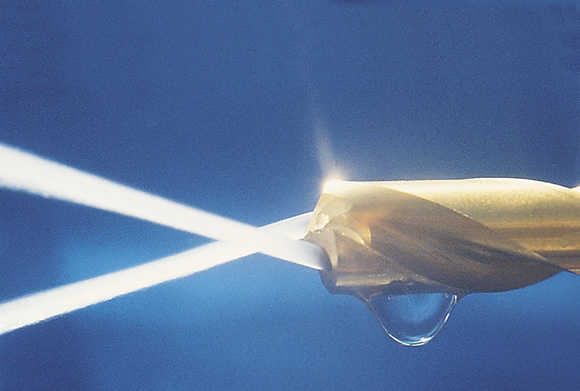 Courtesy of CoolJet Systems
High-pressure, through coolant drilling provides a host of benefits.
High-pressure coolant is an excellent tool in the fight to reduce cycle times when drilling, which is why most part manufacturers use it.
"The majority of shops have it," said Erik Egland, applications engineer for toolmaker OSG Tap & Die Inc., Glendale Heights, Ill. "When you break it down by machine tool, I would say 30 to 40 percent of individual machines have at least through-coolant capability, if not the high pressure."
Applying high-pressure coolant cools the cutting zone and aids chip evacuation. This combination extends tool life and makes tool replacement more predictable, leading to reduced cycle times.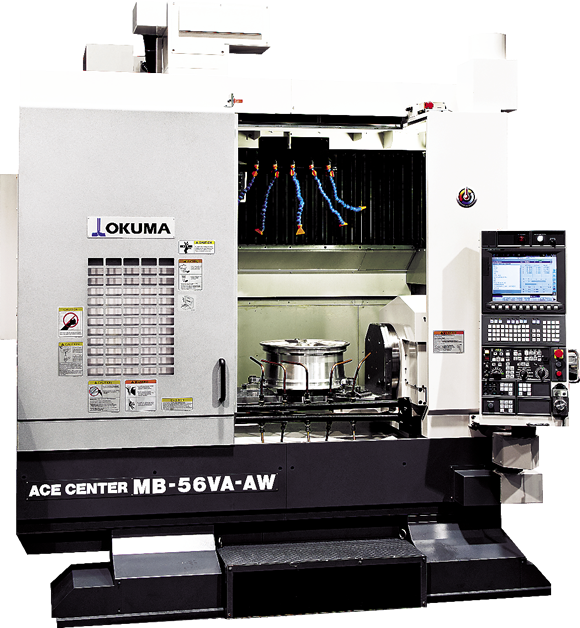 Images courtesy of Okuma America
Okuma's MB-56VA-AW aluminum wheel drilling machine (above) has a 1,000-psi through-coolant spindle. The image below shows a high-pressure, through-coolant drill along with external flushing nozzles to support chip evacuation.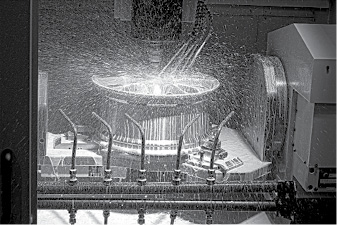 High-pressure coolant, used on CNC vertical and horizontal machining centers and lathes, is generally considered to start at 1,000 psi. For certain hardened or difficult-to-machine materials, 2,000 to 3,000 psi is appropriate.
"Overall, particularly in production drilling, high-pressure coolant is quite common, to the point where most machine tool builders are adding it as an option or making the machines easily adaptable to accept the high-pressure coolant equipment," said Dave Whitaker, engineering manager for CoolJet Systems, Brea, Calif.
He added that "the way distribution works, if a machine is new, the machine tool dealer usually provides the high-pressure equipment. But for older machines, the customer can come to us for help."
Most shops do go through dealers to get high-pressure coolant systems, concurred Rod Tojdowski, senior manager, applications engineering for machine tool builder Okuma America Corp., Charlotte, N.C. "On our end, we make sure the machine is prepped to handle it." Okuma offers 1,000-psi coolant capability on all its machine models.
So while it is common to adapt a machine tool with a through-coolant spindle for high-pressure equipment, it is not common to take a machine not set up with a through-coolant spindle or high-pressure system and rebuild it so it is. "We used to do quite a bit of that, and we occasionally still do a retrofit, but that has largely changed in the market over the last few years," Whitaker said.
But it still might be worth it to add the capability for the right application. "A shop might have an order for some aerospace components made from hard materials where the high pressure is going to make a difference in the machine's performance," Tojdowski said. "They may have a machine that is really good but 5 years old, and now they have a job that needs the high pressure. It would be worth the modification to the machine tool to add the through-coolant capability. The cost savings in tooling alone would justify the modification."
Another option, whether a machine tool is old or new and has a through-coolant spindle or not, is from CFT Systems, Cleveland, a George Whalley Co. It offers manual or automatic toolchanger rotary inducers that handle through-coolant from 10 to 50 gpm at pressures up to 1,000 psi.
CFT Systems' tooling uses the receiving manifold, or stop block, located on the spindle nose housing of most machines. Many machine tools use this manifold to hold boring tools or offset stationary tools. CFT Systems uses the manifold specifically for coolant.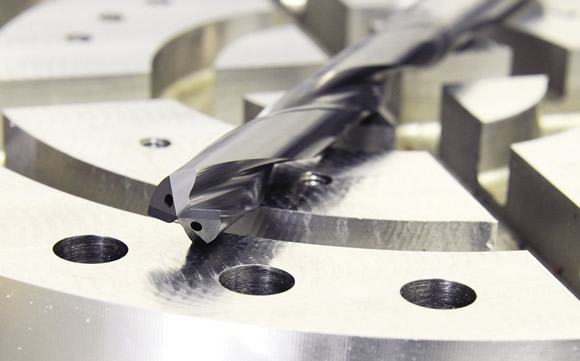 Courtesy of OSG Tap & Die
OSG's EXOPRO-WHO-Ni 5D through-coolant carbide drill has sharp cutting edges for machining nickel-based superalloys.
With the ATC inducers, the toolchanger arm grabs the toolholder with the rotary collar, or gland, and positions it in the machine spindle. The holder itself connects to the manifold. This allows the coolant, which goes through an auxiliary pump, to come through.
The manual tooling is connected directly through the manual gland or collar to the spindle; it doesn't go through the manifold.
CFT Systems sells its tooling as a single unit or a set of modular connections. The toolholders are available in CAT V-flange and BT shanks and are HSK-adaptable.
Fix It for High Pressure
A separate high-pressure system can be integrated into a machine tool's coolant system so the user can call up the standard coolant pump or the high-pressure one, depending on the application.
Low-pressure suction hoses hooked to the machine's coolant tank and the high-pressure system draw coolant from the machine sump. The coolant passes through a filter and then a high-pressure pump generates the coolant pressure and flow to pump it through high-pressure hoses connected to the through-coolant spindle or turret.
"On machining centers, the most important part is the rotary union at the spindle where you connect the high-pressure hose that feeds coolant into the rotating spindle," Whitaker said. "The maximum coolant pressure capability, flow rate and filtration cleanliness level are determined by the specs of this component."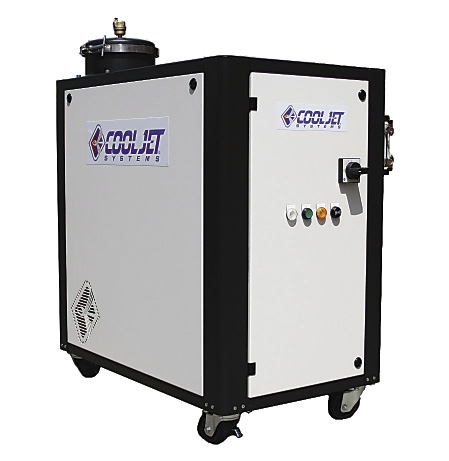 Courtesy of CoolJet Systems
The CoolJet L8-1000 is a 1,000-psi, 8-gpm, fixed-flow, high-pressure pump.
He added that to add a high-pressure coolant system to a machine tool with a through-coolant spindle, it costs about $8,000 for a small pump, the rotary union and hoses, while larger systems with higher flow can run from $20,000 to $25,000. A small pump from CoolJet has a footprint of 17"×33", and the larger size is 32"×48".
There is also the cost of adding a mist collector and enclosures, because the high-pressure jet tends to generate more splashing and misting than standard coolant systems.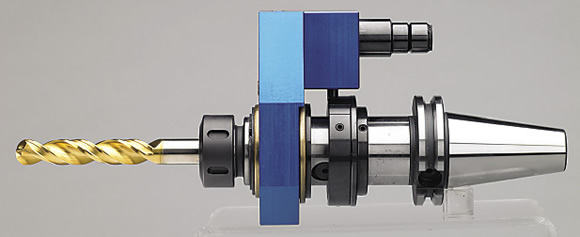 Courtesy of CFT Systems
CFT Systems' collet chuck with a double-margin drill. The blue section is a rotary collar, or gland, that connects to the receiving manifold so the coolant can flow.
A machine's CNC controls the high-pressure coolant system, which provides feedback alarm and status signals, for example, to indicate the filter needs to be changed.
Coolant filtration is critical when applying a metalworking fluid at a high pressure. Often, there is a set of filters in the machine's coolant tank to collect chips. But the high-pressure system needs its own fine-filtration system, typically at the 5µm or 10µm level, to prevent premature equipment wear.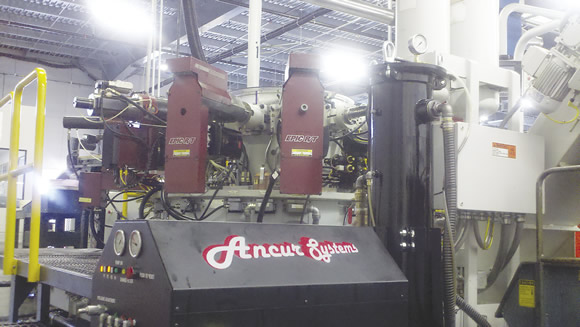 Courtesy of Ancur Systems
Ancur Systems' high-pressure coolant system being used on a rotary transfer machine.
"If the coolant you are trying to create high pressure with is full of contaminants, it wears out the pump prematurely," said Daryl Angeloni, owner of Ancur Systems LLC, Manchester, Conn., which provides high-pressure coolant systems. "It also wears the rotating union and valves. And you don't want to plug up the tools and holders with chips."
With a high-pressure system, coolant absorbs heat during cutting and helps remove it from the cutting zone. A coolant chiller or heat exchanger might also be required to control that heat and stabilize coolant temperature. "Extremely hot coolant can affect the precision of your machine or parts," CoolJet Systems' Whitaker said.
He added that a way to eliminate or reduce the heat generated from the high-pressure system is to have variable flow—"to be able to adjust the flow that is needed so you don't have a lot of waste heat generated in the first place."
CoolJet offers variable- and fixed-flow high-pressure coolant systems. Fixed-flow systems have pressure control valves to maintain pressure at a set level, such as 1,000 psi. Variable-flow systems, sometimes found in large, expensive high-pressure systems, control the pressure and adjust the flow based on what is needed in the machine. The pump controls the variable flow.
Applying the Pressure
Small drills need higher pressure coolant than larger ones. While volume is less, the coolant pressure is critical for effective chip evacuation because the chips are confined in a small space. Small for through-coolant, solid-carbide drills is from ¼" (6.35mm) to 0.040" (1mm) in diameter and smaller.
Large drills need larger volumes of coolant to operate at higher pressures, while the pressure requirement becomes less as the size increases. "If you have 1 gpm at 1,000 psi, that is OK for a small tool, say, ⅛" in diameter, but if you are running a big tool, say, 3" in diameter by 2' long, that might mean running at 15 or 20 gpm at 1,000 psi," Whitaker said.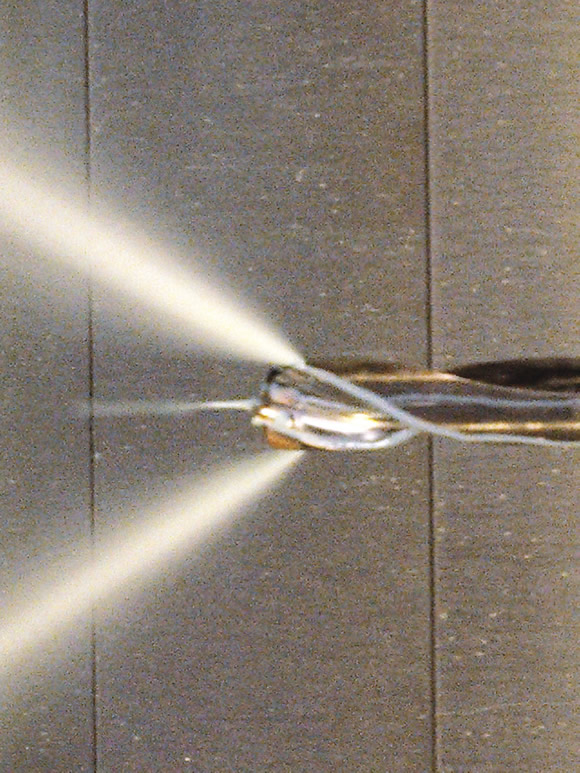 Courtesy of Allied Machine & Engineering
Allied Machine's GEN3SYS XT through-coolant drills are available in several standard geometries to help chip formation, increase penetration rates and increase tool life, depending on the material.
A typical high-pressure pump produces coolant flow of 10 gpm at 1,000 psi. This covers about 75 percent of the high-pressure coolant market, according to Howard M. Whalley, president of CFT Systems, which also offers high-pressure through-coolant cutting tools, toolholders, sealing devices and high-pressure coolant pumps.
In Swiss-style machine tools using high-pressure coolant, the pressure is commonly around 2,000 psi. Because Swiss machines generally run small tools, they need the higher pressure to push the coolant through the tool.
"That is one industry where you will find a higher percentage of the machines have high-pressure coolant," Whitaker said. "For at least 10 years, it has been relatively common in that industry because high-pressure so widely affects the drilling process."
Swiss machines typically have multiple ports for coolant, whereas vertical and horizontal machines usually have one pump output. Ancur, which supplies to mostly Swiss machine dealers, offers high-pressure coolant systems with four and eight ports. The systems cost about $8,000.
Going Long
Deep-hole drilling is the drilling operation that probably benefits most from high-pressure coolant because of demands for chip evacuation. The deeper the hole, the harder it is for standard-pressure coolant to access the cutting tip. "You can drill holes with high-pressure coolant that you can't drill without it," Whitaker said, "such as holes 30 times diameter or deeper, which are difficult to produce consistently without coolant through the drill and high pressure."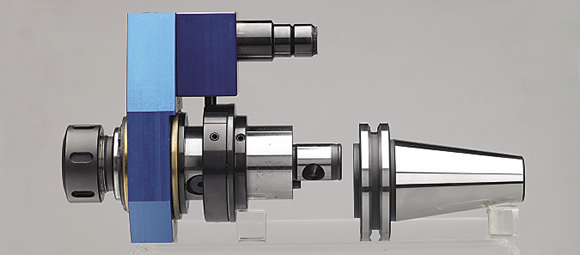 Courtesy of CFT Systems
CFT Systems' through-coolant tooling is available in a modular design.
Because of the chip flushing action produced by high-pressure coolant, the need for peck drilling, which is often used for deep-hole drilling, can be reduced or eliminated. Peck drilling involves periodically retracting the drill to clear chips or flood the hole with coolant. The rapid cycling between high temperatures from drilling and then cooling off can be more damaging to the tool and workpiece than constant heat.
"For those types of materials where the heat doesn't go into the material or the chips, it goes into the cutting edge," said Jamie Rosenberger, product manager for Allied Machine & Engineering Corp., Dover, Ohio. "But with high-pressure coolant, you are exhausting the heat faster so it is carrying the heat away faster from the cutting edge."
Suitable Tools
Through-coolant drills typically have coolant holes at the point of the tool. The diameter of the coolant hole has to be big enough to pass enough coolant, which is more of a challenge when designing and manufacturing through-coolant drills 3mm in diameter and under, OSG's Egland said.
As for the toolholders, most high-pressure equipment providers recommend through-coolant toolholders, such as shrink-fit and hydraulic ones. A collet with a sealed disc is another option when drilling, according to Whitaker.
Besides removing heat and efficiently evacuating chips, the penetration rate (speed plus feed) can be increased with high-pressure coolant. "Increasing the feed rate leads to the creation of thicker chips while maintaining good chip formation. The high-pressure coolant allows this to happen," Egland said.
Courtesy of Ancur Systems
Ancur Systems' high-pressure coolant system on a Swiss-type machine is prepared for delivery.
High-pressure coolant can also improve a hole's surface finish. "The smaller the chips, the less likely they are to impact the side of the hole and scar it," Allied Machine's Rosenberger said, adding that chip thickness and weight also affect surface finish.
In addition, Rosenberger noted high-pressure coolant improves hole straightness, especially when deep-hole drilling, say, 9 diameters deep. "The reason you have straighter holes with high-pressure coolant is because the chips are getting out faster and not packing and clogging the flutes," she said. "If you don't have high pressure, those chips pack in the flutes and that will actually push that drill around, causing it to wander."
Water-soluble coolants, synthetics and even straight oils are all applied for high-pressure drilling, but the formulation must be appropriate. "Most coolants for high-pressure drilling are an antifoam formulation," Whitaker said. "Good machining oil has a light viscosity. And a formulation that freely releases air is not prone to trapping air in solvent." He added that CoolJet always stresses to customers considering high-pressure coolant that they should consult their cutting fluid supplier to verify the product is recommended for high pressure.
Water-based coolants require different considerations than standard machining oils. "For example, oil is heavier, so you are going to need a pump with a heavier duty motor," said Okuma's Tojdowski.
When it comes to drilling, users have found it is important to have high-pressure coolant because "the cooler you keep the tool and the better you evacuate the chips out of the hole, the better you are cutting," Ancur's Angeloni said. CTE
---
Contributors
Allied Machine & Engineering Corp.
(800) 321-5537
www.alliedmachine.com
Ancur Systems LLC
(860) 519-4364
www.ancursystems.com
CFT Systems, a George Whalley Co.
(800) 600-2248
www.cftsystems.com
CoolJet Systems
(714) 577-9262
www.cooljet.com
Okuma America Corp.
(704) 588-7000
www.okuma.com
OSG Tap & Die Inc.
(800) 837-2223
www.osgtool.com