Author
William Leventon
Published
August 09, 2022 - 03:00pm
In a backyard or park, a bird's nest is a welcome sight. At a machine shop, however, a bird's nest couldn't be more unwelcome. There, the term refers to a tumbleweed-like chip ball that can cause big problems for conveyor systems that dispose of chips produced by high-speed turning and milling processes.
One innovative solution to bird's nest issues is a patent-pending system that takes a more aggressive approach to chip conveying than conventional systems. Dubbed the MunchMan by Jorgensen Conveyor and Filtration Solutions in Mequon, Wisconsin, the system features two belts instead of the single belt used by other conveyors.
In conventional conveying systems, chips that fall from an operating machine tool and onto the moving belt are carried to a covered incline section, then up to the top of the incline, where they drop into a hopper. Or at least that's the way they're supposed to work.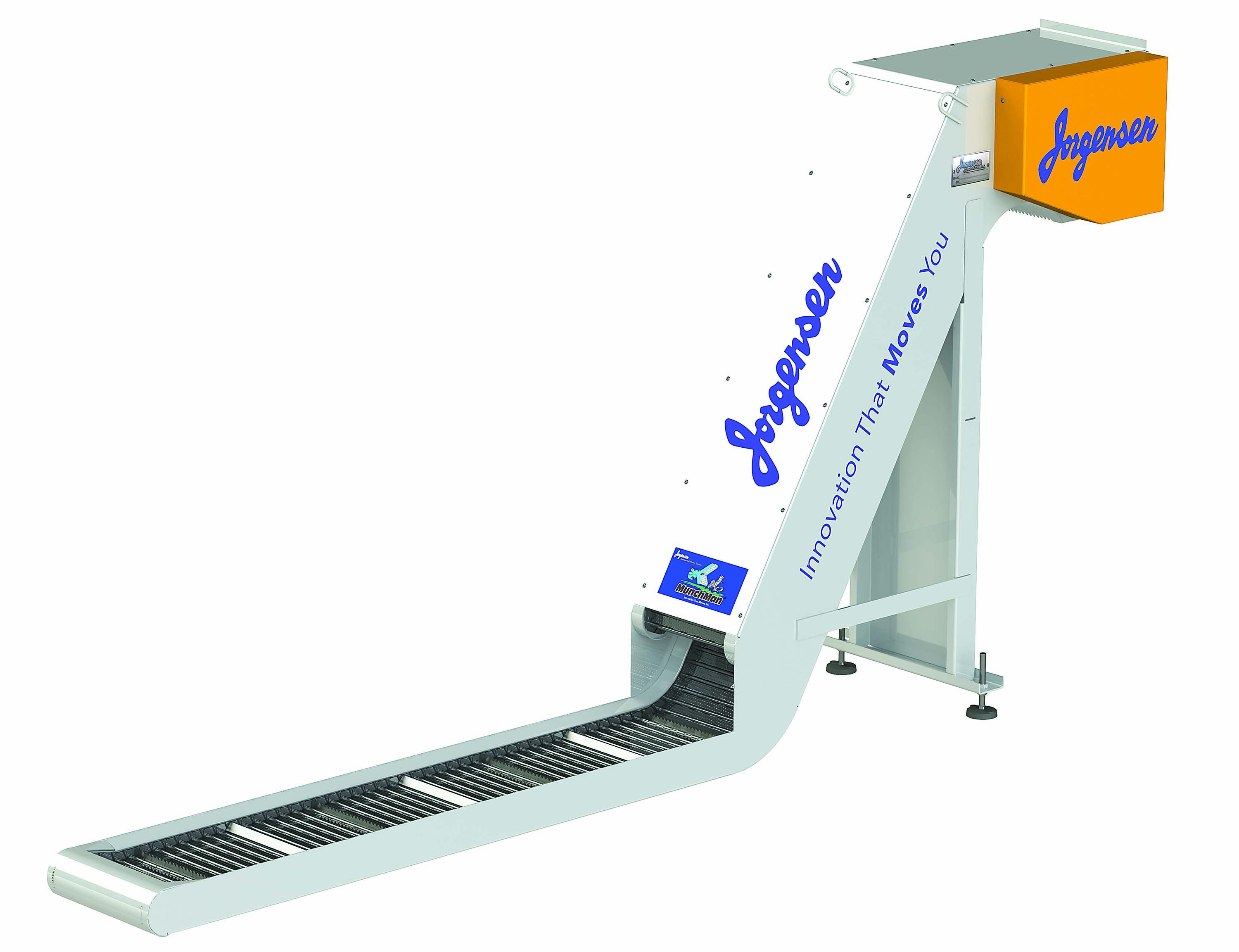 "A standard conveyor is very effective in carrying broken chips and fines, but it struggles to handle a bird's nest," said Dustin Krueger, director of engineering at Jorgensen Conveyor and Filtration Solutions.
In some cases, he said a large bird's nest simply tumbles in place at the base of the incline section instead of moving up the incline. As the nest does so, it's enlarged continuously by additional material being carried to the base of the incline, making it ever more difficult to convey.
"When you have that tumbling effect and chip buildup," Krueger said, "the machine operator (often) needs to go in there and manually pitchfork the bird's nest to push it up the incline."
He said even if a bird's nest does move up the incline, the nest can cause major conveyor jams and motor overloads, as well as put damaging pressure on incline cover plates.
To eliminate these issues, MunchMan's design supplements the primary belt with a secondary belt that also runs up the incline to the chip discharge area. Working in unison, the two belts grab chips at the base of the incline to prevent tumbling. Once in the incline section, chips are compressed between the two belts as they're carried up to the discharge point. Besides preventing problems in the incline section, Krueger pointed out that compressing the chips significantly reduces the volume of material that reaches the chip hopper. As a result, it doesn't need to be emptied as often as one paired with a conventional conveyor.
In addition to its two-belt design, the MunchMan features the UVS EcoLogic Control, which provides speed and direction change capabilities, motor protection and external input/output. Also included is patented Jam Manager technology, which allows automatic clearing of minor conveyor jams. Reacting to a spike in motor current that indicates a jam, he said the Jam Manager stops the conveyor and then initiates a series of forward-and-reverse cycles to clear the jam.
To ensure proper fit and function, Jorgensen Conveyor and Filtration Solutions custom-fabricates every MunchMan for a specific
application.
"We have a template conveyor that all of our custom designs work off of," Krueger said.
When designing a conveyor for a particular application, the company considers factors, such as bird's nest density and the volume of chips produced during the machining process. In most cases, he said a chip sample is requested from the customer. For applications that require cutting oil and coolant, the MunchMan can be built with a coolant reservoir.
A customized MunchMan should work with most CNC lathes and machining centers and needs little or no additional space compared with conventional single-belt chip conveyors, according to Jorgensen Conveyor and Filtration Solutions.
"The profile of the MunchMan is essentially the same as (that of) a standard conveyor," Krueger said. "The only thing that's different is the additional incline depth required for the second belt. So for a standard CNC machine, more often than not we fit the cutout where a standard conveyor would go."