Author
William Leventon
Published
October 05, 2022 - 05:00pm
There is no need for different machines for the different operations required to grind solid rotary cutting tools.
That explains why demand is healthy for the GrindSmart 660XW from Switzerland-based Rollomatic. This hybrid tool-grinding machine handles both grinding of cutting geometries and peel grinding for other tool production tasks. These include plunge-grinding operations, blank preparation for common-shank rotary cutting tools and neck grinding for long-reach mold-and-die endmills.
"To our knowledge, there is no other machine on the market with this kind of ability," said Eric Schwarzenbach, president of Rollomatic Inc., the company's North American headquarters in Mundelein, Illinois.
The six-axis GrindSmart 660XW allows users to employ what Rollomatic calls an ultralean process that eliminates the need for multiple machines and setups to complete all the steps necessary to grind a tool. One result is a much quicker process.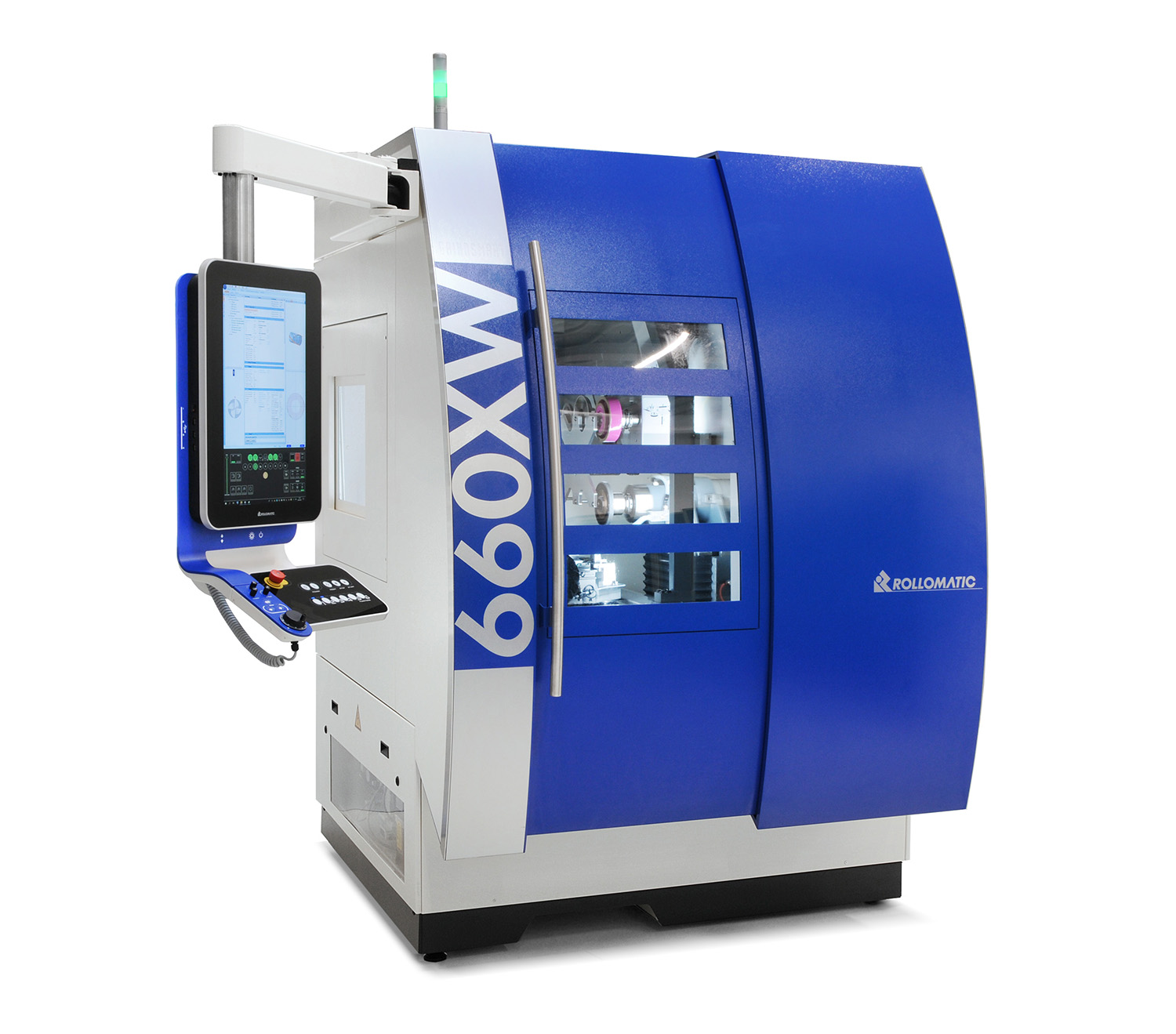 "If you do it on three different machines, it can take days or weeks to complete," Schwarzenbach said. "But on one machine, it is done in one chucking."
In addition, he pointed out that process management is easier when only one machine is involved, and there's also a lower risk of tool damage due to less handling and transportation.
To combine grinding of cutting geometries and peel grinding in a single machine, the GrindSmart 660XW features a traveling high-speed workhead mounted on a CNC linear axis. The machine also includes a novel steady rest system designed to provide good support during both fluting and drill-pointing operations. Thanks to the traveling workhead, the grinding wheel is always on top of the steady rest during peel grinding, which makes for a more stable process. In addition, the grinding wheel position remains fixed and close to the steady support point to prevent problematic deflection regardless of the length of the tool.
The one-piece steady rest includes a half-round for support during fluting and a bushing for support during point grinding.
"With a half-round, the advantage is that you can grind flutes faster because you have a solid support and there's no deflection," Schwarzenbach said. "And the bushing will hold a drill in place so we can grind a lot faster on the point than we would if there was no support."
The machine also comes with a 20-hp synchronous spindle motor and a six-station wheel changer that can accommodate a variety of grinding wheels for different operations.
Another key feature of the GrindSmart 660XW is a double-skin coolant enclosure. With this design, the system as a whole is standing on eight feet — four for the machine itself and four for the enclosure. Standing on its own feet, the enclosure is disconnected mechanically from the machine and not touching it. Schwarzenbach said the purpose of the separation is twofold: to provide thermal stability by shielding the machine from outside temperature fluctuations and to prevent vibrations from being transmitted to the machine through the enclosure.
Offering a grinding diameter range from microsize to 12.7 mm (0.5") and a maximum grinding length of 152.4 mm (6"), the GrindSmart 660XW is designed to produce smaller cutting tools.
"If we made the same machine for (tool diameters) up to 1" (25.4 mm), it would be much larger in size and also more expensive," Schwarzenbach said.
Measuring 2.26 m high × 1.83 m long × 1.55 m wide (89"×72"×61"), the GrindSmart 660XW deliberately was made to be a tall machine.
"We built the machine up in height and kept the footprint small so it can save users real estate in their factories," Schwarzenbach said.