September 04, 2018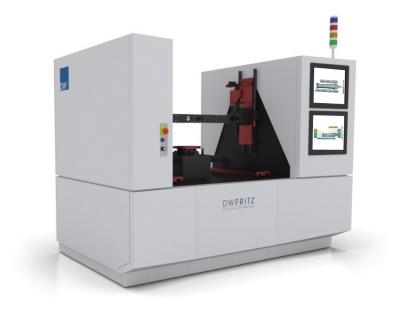 DWFritz Automation introduces Zero-Touch, a recently patented noncontact multipurpose metrology platform. Zero-Touch is a highly configurable system that simultaneously captures multiple 3D dimensional measurements in a fraction of time compared to traditional coodinate measuring machines.
The system measures part features and complex geometries such as bores, undercuts and chamfers, in addition to complex surface topology, such as surface finish, color and gloss. It features a rotating bridge 5-axis metrology platform that can achieve part inspection speeds up to10X faster than conventional tactile CMMs. A unique bridge rotation uses multiple noncontact measuring sensors including optical, laser line scanner, and confocal technologies.
Seamless Zero-Touch CAD-based measuring software provides easy generation of part measurement plans using motion path creation, simulation and sensor parameter settings with no specialized programming required. The part's generated 3D point cloud is transmitted to Innovmetric's popular Polyworks analysis software, creating a detailed inspection report with actionable information for improving manufacturing processes.
Related Glossary Terms
metrology


metrology

Science of measurement; the principles on which precision machining, quality control and inspection are based. See precision machining, measurement.