October 01,2014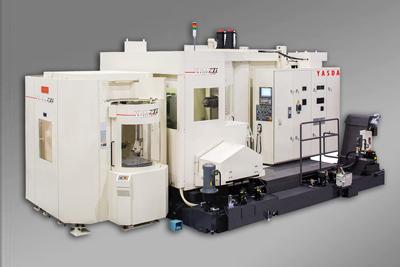 Methods Machine Tools Inc. has introduced the YASDA YBM 7Ti 5-axis horizontal machining center for difficult-to-cut materials. A rotary table design and rigid machine structure provide high-performance machining of heat-resistant materials, such as titanium and Inconel. To ensure high accuracy levels, the YBM 7Ti has hardened slide box guideways and a 10,000 RPM, 50-taper direct-drive spindle. Positioning accuracy on the X,Y,Z axes is +/-0.005mm (0.0002") and is +/-1 second (measured in degrees) on the A/B rotary and tilting axis.
"Manufacturers in sectors such as aerospace and power generation require a robust solution for machining heat-resistant materials," said Steve Previti, YASDA Product Manager. "The YBM 7Ti provides the power, rigidity and performance to efficiently machine these very challenging materials for the manufacture of complex, high precision components."
A newly designed rotary table offers four times the rigidity compared to other rotary tables, according to the company. With the unique table design, there is ample room around the pallet which provides smooth table movements and allows operators to get a closer and clearer view of their parts.
The YASDA YBM 7Ti features a 25-ton, H-shaped steel machine base for absorbing cutting forces and drastically minimizing any machine vibration. All linear axes have hand-scraped, hardened slide box guideways for high accuracy when making challenging cuts. Hardened, ground and lapped guideways enable rapid feeds of up to 48 m/min, yielding high accuracy throughout every full stroke. To achieve maximum performance levels, the mating faces of the guideways are about double the width of more traditional linear guideways.
The YASDA YBM 7Ti features a direct-drive spindle system that is designed to keep cutting forces away from the spindle motor, which maintains consistency and repeatability. A YASDA self-adjusting spindle system automatically adjusts the preload to the spindle bearings, enabling a wider range of cutting capabilities.
The new YASDA horizontal machining centers have a large work envelope with X,Y, Z travels of 49.2" x 39.4" x 43.3" (1,250mm x 1,000mm x 1,100mm), respectively, a vertical rotation of 360 degree and a horizontal rotation of +/-100 degree. A two-pallet system has 19.7" x 19.7" (500mm x 500mm) pallets for a maximum loading capacity of 1,102 lbs (500 kg) on each pallet. Maximum part size is 24.8" (630mm) in diameter and 19.7" (500mm) in height. A YASDA curvic coupling system with large diameter circle gears is used to support the back side of the pallet, allowing the accuracy of the center of the pallet to be fully maintained. An Automatic Tool Changer holds up to 240 tools. The powerful, new easy-to-use FANUC FS31i-B5 control is furnished standard.
Related Glossary Terms
centers


centers

Cone-shaped pins that support a workpiece by one or two ends during machining. The centers fit into holes drilled in the workpiece ends. Centers that turn with the workpiece are called "live" centers; those that do not are called "dead" centers.

machining center


machining center

CNC machine tool capable of drilling, reaming, tapping, milling and boring. Normally comes with an automatic toolchanger. See automatic toolchanger.

work envelope


work envelope

Cube, sphere, cylinder or other physical space within which the cutting tool is capable of reaching.