June 12, 2012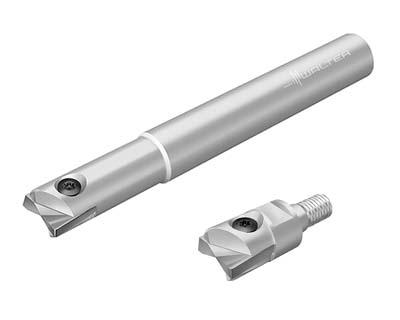 Walter USA LLC has introduced the new F4031 Xtra-tec Toric copy mill. The new cutter features a Torx Plus screw that permits improved handling along with higher clamping and unclamping torque. It also offers precise positioning of the insert via an innovative prism design, and insert clamping with fitting bolt to secure optimal clamping and centering. In addition, the tool boasts a PVD coated body for enhanced wear resistance and longer life.
The F4031 features a Toric, positive insert for superior accuracy. These inserts are completely ground, that is, circumference, prism and thickness, and hold a corner radius accuracy of +/- 0.0004-in., and a 90 degree secondary cutting edge.
Field tests of the new F4031 copy mill have yielded superior results in the mold and die industry as well as in semi-finishing and finishing operations. Excellent results have also been achieved particularly in terms of tool life and cutting costs, with steel, stainless steel, cast iron, difficult to cut materials and in hard machining. Diameters for the copy mill range from 12 to 32mm (0.312 to 1.250").
Additional benefits of the F4031 include: secondary operations are virtually eliminated because of the high surface quality on flat areas or on shoulders due to the precise ground geometry; high process reliability due to the aforementioned prism design and clamping of the insert; reduced storage costs stemming from the fact that this single tool can be adapted to a variety of applications; and no need for the regrinding costs and delays often associated with solid carbide tools.