April 15, 2023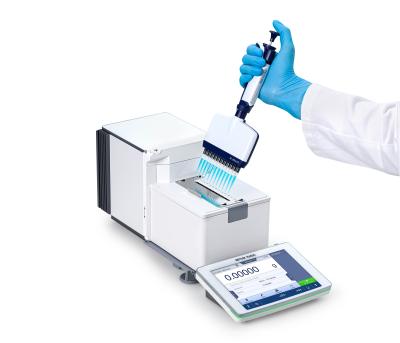 The XPR105MCP is the high-speed solution for ISO 8655-compliant calibration of multichannel pipettes. It has a readability of 10 μg and supports multichannel pipettes with up to 12 channels and nominal volumes from 0.5 – 1000 μL.
With a readability of 10 μg and repeatability of 15 μg, the system fulfills the requirements of ISO 8655 for multichannel pipettes with dispensing volumes as small as 0.5 μL. The outstanding weighing performance ensures accurate calibration, even at such small volumes.
The results of a single dispense of up to 12 channels are calculated in under one minute. The unique and innovative XPR105MCP tests each pipette channel individually on the same load cell to ensure equal measurement performance. The load cell is protected from any spills to ensure lifelong performance.
The 360 measurements needed for a full calibration (12 channels, 3x10 repetitions) can be completed in as little as 25 minutes. The system can also be connected to a second XPR105MCP for increased throughput.
The Calibry PC software stores result in a secure database, informs you when pipette tests are due, and produces customized reports if required. Calibry helps you fulfill ALCOA+ data integrity requirements and assists with 21 CFR part 11 compliance.​
Related Glossary Terms
calibration


calibration

Checking measuring instruments and devices against a master set to ensure that, over time, they have remained dimensionally stable and nominally accurate.