January 12, 2012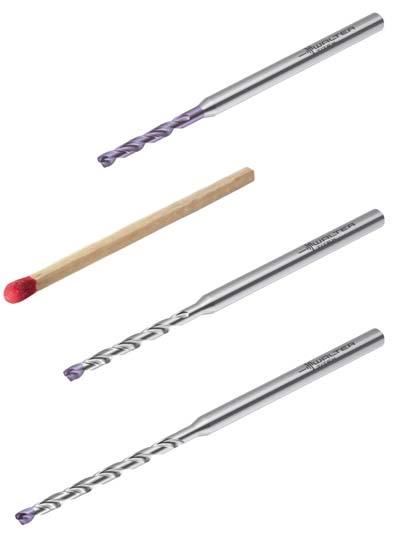 Walter LLC has expanded its popular line of Walter Titex X-treme deep-hole micro drills with three new high performance variants: the X-treme M, X-treme DM8 and the X-treme DM12. The designation M stands for "micro" and the D for "deep."
Though used extensively in die and moldmaking, primarily in the drilling of cooling and ventilation holes required, high performance micro drills are also widely employed in the automotive and power generation industries, as well as general machining. Because the X-treme micro drills are so versatile (they can handle material groups ISO-P, M, K and N), they are suitable for these as well as a wide array of other metalworking applications.
The new Walter Titex X-treme M covers drilling depths of up to 5xD, while the DM8 and DM12 are engineered to handle depths of up to 8xD and 12xD respectively. Available in diameters ranging from 2 to 2.95mm, these solid carbide drills have been optimized to ensure an extremely high level of process reliability — particularly important where small diameters are involved. For instance, optimized point geometry ensures precise positioning on entry, while internal cooling and polished flutes with special profiling ensure heat removal and reliable chip removal.
Another key feature is their AlTiN-based coating which maximizes cutting performance and tool life. The X-treme M is coated along the entire useful length of the tool (designated as AML) As with some of the earlier members of the X-treme family, the X-treme DM8 and DM12 have a tip coating (designated as AMP).
Related Glossary Terms
flutes


flutes

Grooves and spaces in the body of a tool that permit chip removal from, and cutting-fluid application to, the point of cut.

metalworking


metalworking

Any manufacturing process in which metal is processed or machined such that the workpiece is given a new shape. Broadly defined, the term includes processes such as design and layout, heat-treating, material handling and inspection.

profiling


profiling

Machining vertical edges of workpieces having irregular contours; normally performed with an endmill in a vertical spindle on a milling machine or with a profiler, following a pattern. See mill, milling machine.