October 27, 2020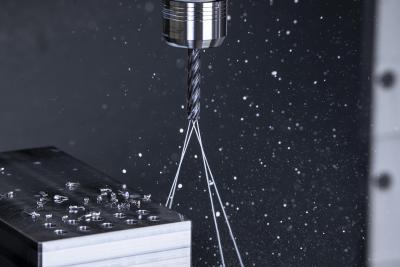 The first of its kind on the market, CERATIZIT USA Inc.'s WTX High-Feed Drill features four effective cutting edges for increased precision, productivity and service life.
The innovative pyramid geometry of the WTX ensures extremely aggressive and precise drilling performance. In fact, the WTX achieves positioning accuracy of 0.03 mm and excellent centering properties. Higher levels of drilling quality, hole tolerance, surface finish, and positioning accuracy increase component quality, to the extent that there is no need for potential reworking. Furthermore, low burr formation when entering and exiting the hole eliminates the need for time-consuming subsequent deburring.
The unique four-flute design of the WTX enables extremely high feeds in steel processing, as well as secure and quick chip removal. The distribution of cutting force to four cutting edges results in longer service life. In addition, four continuous spiral-through coolant holes provide optimum cooling of each cutting edge and contribute to a higher tool service life and a noticeable reduction in tool costs.
The application of impenetrable new CERATIZIT Dragonskin DPX14S coating on the WTX provides maximum protection for the drill and further increases tool life, cutting speeds, and process reliability. Dragonskin utilizes TiAIN nanolayer coating with a .35 coefficient of friction and allows for maximum application temperatures of 1832º F.