September 04, 2020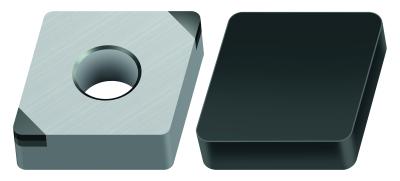 Walter has introduced WBK20 and WBK30, new CBN grades that bring higher levels of productivity and reliability to the machining of cast iron and hardened steel. Both new grades have edge-preparation designs that have been optimized for their target applications.
With its tipped configuration, WBK20 is exceptionally wear resistant and well suited for finishing of cast iron or powered metal workpieces. Because of the higher CBN content it is also well suited for roughing in hard turning applications. With its full CBN configuration and high CBN content, WBK30 is ideal for heavy depth of cuts, roughing in cast irons, powder metals and exceptionally hard and tough applications, such as interrupted cuts, in hard turning.
These new grades complement Walter's previously released WBH10C coated CBN and WBH10 and WBH20 CBN grade ideal for high temperature stability in hard metal turning. These inserts also have the option of chip breaker (TM-M2) for trouble shooting and wiper (MW2) for exceptional surface finish or higher feed and productivity. Various standard ISO turning insert shapes with these new grades, such as C, D, S and T, are available in both positive and negative clearance geometries. Select grades WBS10 and WBH20 are also available as grooving inserts for aerospace alloys and hard steels respectively.