November 01, 2014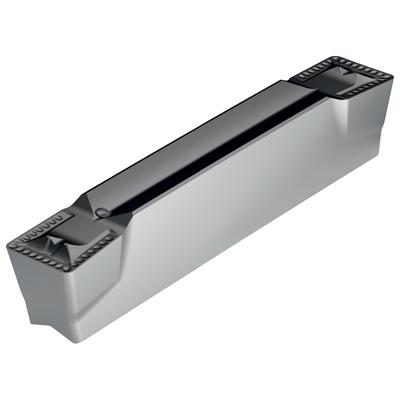 Walter USA LLC has introduced three new Walter Cut GX Tiger-tec Silver CVD grooving and parting grades, the WKP13S, WKP23S and WKP33S, which are being introduced in combination with Walter's provden geometries UD4, UA4, UF4, RD4 and the plunge grooving and parting geometries GD3 and CE4.
This advanced cutting tool combination is enhanced by the latest developments in Tiger-tec Silver technology, a wear-resistant cutting material that delivers an increase in cutting parameters, while maintaining or improving tool life, according to the company. The new, thicker Tiger-tec Silver CVD coating used with the WKP grades features aluminum oxide with optimized microstructure for maximum crater wear resistance, and enhanced cutting speed due, in part, to reduced friction. A new silver flank face permits easy wear detection and full cutting edge usage.
In addition, a second generation mechanical post-treatment is used to create compressive stresses, enhancing toughness, reducing the chance of cracks on the cutting edge and boosting load capability and metal removal rates. Additionally, the greater toughness produces longer and more consistent tool life.
The WKP13S is for use under good machining conditions, primarily on ISO P and ISO K materials including steels such as high grade, bearing and carbon steels. ISO K materials include gray cast iron and ductile iron, as well as compacted graphite cast iron. This grade reportedly delivers excellent wear resistance and cutting speed especially in continuous cuts. WKP23S, used primarily on ISO P and K materials, is a universal grade for a variety of applications, from continuous cutting on bar stock to machining interrupted cuts. It delivers superior wear resistance and cutting speed. WKP33S, also aimed at ISO P and K materials, provides excellent wear resistance and high toughness during unfavorable machining conditions.