July 03, 2020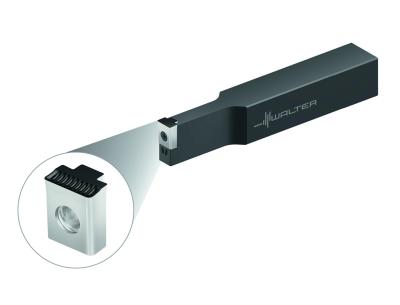 Walter has introduced the Walter Cut G2016-P/ UX grooving system. This productive and economical new system delivers stable and process reliable performance in heavy machining and features high feed rates of 0.008-0.024 in. (0.2-0.6 mm). The system maximizes tool uptime with its simple-to-operate tangential-clamping mechanism for fast replacement of cutting edges.
Tangentially mounted grooving insert with a robust seating surface also ensures maximum stability. The insert and pocket design features an axial key stop for added stability against the side cutting (axial) forces. Precision cooling on the flank surface is offered as a standard feature for longer tool life. The chip breaker for the inserts is developed for heavy-duty machining to ensure short chips when cutting at maximum depth and when widening the grooves.
The tangentially mounted inserts, with widths of 0.472 and 0.748 in. (12 and 19 mm) provide maximum stability and feature shank sizes of 25 x 25 and 32 x 32 mm.
The Walter Cut UX grooving system is ideal for applications in the energy industry, wind power, shipbuilding as well as general heavy-duty machining.
Related Glossary Terms
feed


feed

Rate of change of position of the tool as a whole, relative to the workpiece while cutting.

grooving


grooving

Machining grooves and shallow channels. Example: grooving ball-bearing raceways. Typically performed by tools that are capable of light cuts at high feed rates. Imparts high-quality finish.

shank


shank

Main body of a tool; the portion of a drill or similar end-held tool that fits into a collet, chuck or similar mounting device.