October 01, 2014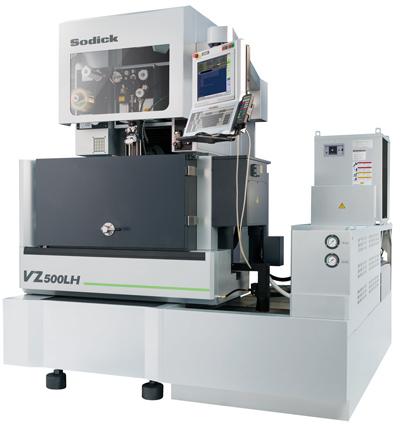 With the high demands of today's market for the latest innovative technology, Sodick Inc. reports it is continuously working on R&D for new machines that are faster, more accurate and achieve a greater surface finish. The most recent machine to be added to Sodick's line-up is the VZ500LH. This machine originated from the highly successful VZ Series, cost-friendly Wire EDMs. All VZ models have rigid linear motor drive technology as standard, and are provided with a 10-year positioning accuracy guarantee.
The VZ500LH was created in response to the growing demand for large capacity Wire EDMs that feature extreme height capability. This type of machine is often ideally suited for mold and die, aerospace and energy applications including parts, such as; turbine hubs, aerofoil vanes, instrument panels and mold cores.
The VZ500LH features a 17.2" Z-axis cutting capacity. Additional standard features include a Super-Jet AWT (High Speed Automatic Wire Threader), wire-tip disposal unit, anti-electrolysis circuit and dielectric cooling unit (chiller).
The control incorporates collision protection to prevent against operator error. This technology constantly monitors axis load. When voltage exceeds a predetermined limit, the machine will stop and give the operator an error message. With the rigid linear motor drive system, there is no mechanical connection between the rigid linear motor drives and the table, unlike ballscrew drives, which can incur costly repairs in the event of a collision.
The control also features automatic machining condition selection. This is a database within the machine that contains details on the best conditions for a particular wire diameter, workpiece material or workpiece thickness and ensures the best possible machining results. The operator can utilize the extensive conditions provided by Sodick or add their own conditions to suit unusual applications.
Related Glossary Terms
linear motor


linear motor

Functionally the same as a rotary motor in a machine tool, a linear motor can be thought of as a standard permanent-magnet, rotary-style motor slit axially to the center and then peeled back and laid flat. The major advantage of using a linear motor to drive the axis motion is that it eliminates the inefficiency and mechanical variance caused by the ballscrew assembly system used in most CNC machines.