August 18, 2022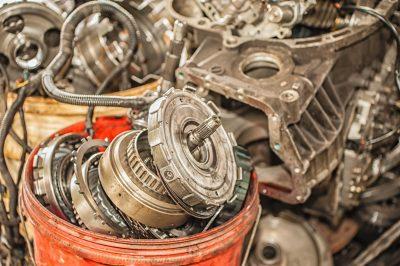 When cleaning or degreasing metals, it is important to choose a cleaning fluid that guards against flash rust. It is also important to consider the method of cleaning, since high pressure and high agitation can create a foaming mess. To address both concerns, Cortec® Corporation offers VpCI®-418 LM, a non-foaming alkaline cleaner with flash rust protection.
Preventing Flash Rust on Freshly Cleaned Metal
Metals are especially susceptible to flash corrosion after cleaning, which is why Cortec® has developed VpCI®-41x series cleaners/degreasers that contain flash rust inhibitors. These corrosion inhibitors are ideal for protecting metals that cannot be immediately coated. Other common uses include dual cleaning/corrosion protection of the following:
Machinery, engine blocks, or forgings coated with grease or oil deposits
Plate, sheet metal, and metal castings covered with oily films prior to painting or pickling
Metal parts contaminated with stamping, drawing, or buffing compounds
Metal structures
Overcoming Foam Problems in Parts Washers
When cleaning the items mentioned above, foam is usually associated with a better cleaning experience. That changes with parts washers, where high agitation creates excess foam that could overflow out of the machine and onto the floor. Pressure washing and power washing can have similar problems. VpCI®-418 LM is good for both applications because it is non-foaming and performs best with mechanical action. VpCI®-418 LM can be used on a variety of metals (carbon steel, stainless steel, cast iron, galvanized steel, brass [30% Zn], copper) and may be used at different dosages for light, medium, or heavy-duty cleaning.
Next time you need to clean metal parts or structures in a high agitation environment, remember to take advantage of the flash rust corrosion protection and non-foaming aspects of VpCI®-418 LM.
Related Glossary Terms
buffing


buffing

Use of rapidly spinning wires or fibers to effectively and economically remove burrs, scratches and similar mechanical imperfections from precision and highly stressed components. The greatest application is in the manufacture of gears and bearing races where the removal of sharp edges and stress risers by power methods has increased the speed of the operation.

flash


flash

Thin web or film of metal on a casting that occurs at die partings and around air vents and movable cores. This excess metal is due to necessary working and operating clearances in a die. Flash also is the excess material squeezed out of the cavity as a compression mold closes or as pressure is applied to the cavity.