February 14, 2023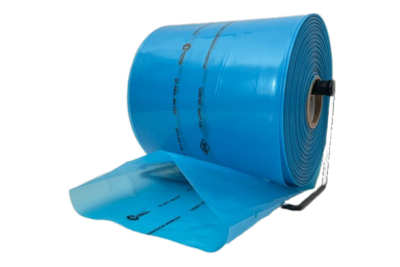 Cortec® is proud to announce the launch of a new version of its proprietary VpCI®-126 Film Technology. VpCI®-126 PCR corrosion inhibiting film has been developed with a high amount of post-consumer recycled content for the purpose of efficient recovery, recycling, and reuse of resources to minimize the economy's negative ecological footprint. It combines the latest film technology with effective corrosion protection for all metal products. VpCI®-126 PCR will help Cortec's customers meet their sustainability goals without compromising quality specifications related to mechanical and corrosion inhibiting properties.
In Europe, Cortec's films are produced at the EcoCortec® plant, which is located in the green area of the Baranja region in Croatia. All Cortec's plants around the world have been embracing sustainable practices for the benefit of consumers and our planet, and EcoCortec® has been one of the first packaging manufacturers to promote sustainable VCI packaging technologies. It has also managed to maximally implement circular economy principles in its operations and manufacturing processes. As part of the company vision, Cortec's European plants have been making a green transition to carbon neutrality and the use of their own energy resources.
Being a leader in environmentally conscious manufacturing of corrosion inhibitors is one of the main goals of Cortec's team around the world. VpCI®-126 PCR, made with a high amount of post-consumer recycled content, is the latest addition to Cortec's palette of environmentally responsible products, contributing to the "circular economy" model by promoting recycling and the reuse of resources. Circular economy aside, VpCI®-126 PCR offers excellent performance, protecting metal parts from all types of corrosion, including rust, stains, tarnish, white rust, and oxidation for up to 5 years.* Metal parts packaged in Cortec® VpCI®-126 PCR receive continuous protection from salt, excessive moisture, condensation, aggressive industrial atmospheres, and dissimilar metal corrosion.
Vapor phase Corrosion Inhibitors in the film evaporate and then condense on metal surfaces inside the enclosed package, reaching every area of your part and
protecting its exterior as well as hard-to-reach interior surfaces. Cortec's customers receive full product protection during storage as well as during domestic and international shipments. The film provides multi-metal protection to ferrous and non-ferrous metals.
FEATURES
Contains Vapor phase Corrosion Inhibitors (VpCI®) to protect void spaces and recessed areas
Made with guaranteed 30% post-consumer recycled content
Uses recycled content of high, consistent quality
Recyclable
Conforms to NACE Standard RP 0487-2000
Cortec® VpCI®-126 PCR is heat-sealable and can be used with all types of manual or automated heat-seal packaging equipment. The material is available in a variety of standard and customized forms including bags, sheeting-reinforced film, top-seal and auto bags, gusseted liners, bags-on-a-roll, perforated sheeting, coil covers, and tubing to protect small or large parts. The film is available in a variety of gauges ranging from 50-250 microns (2 to 10 mils) and widths from 76 mm-9.7 m (3" to 32').
Related Glossary Terms
recovery


recovery

Reduction or removal of workhardening effects, without motion of large-angle grain boundaries.