January 12, 2018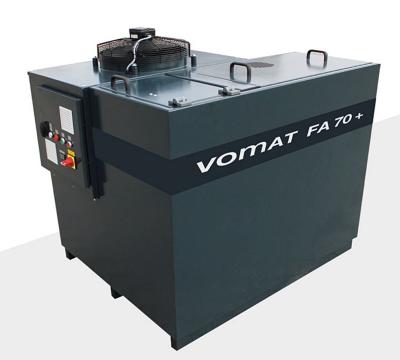 When regrinding tools, clean filtered coolants are an important quality factor. The filtration system manufacturer VOMAT from Germany ensures that clean and pure cooling lubricants are available for an extended period of time to the production process. The compact VOMAT FA 70 is particularly suited to tool regrinding. The standalone system offers powerful VOMAT ultrafine filtration technology in a small package.
Many tool manufacturers or resharpening companies offer the service of renewing cutting edges on a wide variety of tools. This restores the tool performance beyond their initial use and allows for fully exploiting the usability of a precision tool thanks to the extended lifecycle.
VOMAT offers individually tailored concepts for the filtration and cooling of lubricants for grinding processes in the metalworking industry as well as special solutions for other materials. Their product portfolio includes solutions for standalone units, modular systems, central systems and customized special systems with centralized and decentralized functions.
Steffen Strobel, technical sales manager at VOMAT, states: "Filter systems for cleaning contaminated grinding oils during tool regrinding increase the cooling lubricants (KSS) service life, reduce the costs for fluids, improve the product quality and increase overall process reliability."
The VOMAT FA 70 standalone system has proven particularly useful for regrinding precision tools. The compact unit (dimensions in mm: 1,300 L x 1,100 W x 1,200 H) has a maximum filtration capacity of 70 liters per minute and provides clean oil in NAS 9 quality over a long service period. Optional modules, such as an integrated 7kW cooling unit with a control accuracy of +/-1.0 K, as well as magnetic and disposable filters allow for customer-specific system solutions. The residual sludge disposal is done manually via special bags.
Strobel added: "In addition to VOMAT's standardized FA model series, VOMAT pays particular attention to solving specific problems in conjunction with the customer. The filtration systems for tool grinding or regrinding are specially tailored to the specific needs of the user and fully integrated into the production process. Thanks to the high quality of the filtered lubricant, the reground tools can achieve performance levels similar to a new tool."
Related Glossary Terms
grinding


grinding

Machining operation in which material is removed from the workpiece by a powered abrasive wheel, stone, belt, paste, sheet, compound, slurry, etc. Takes various forms: surface grinding (creates flat and/or squared surfaces); cylindrical grinding (for external cylindrical and tapered shapes, fillets, undercuts, etc.); centerless grinding; chamfering; thread and form grinding; tool and cutter grinding; offhand grinding; lapping and polishing (grinding with extremely fine grits to create ultrasmooth surfaces); honing; and disc grinding.

metalworking


metalworking

Any manufacturing process in which metal is processed or machined such that the workpiece is given a new shape. Broadly defined, the term includes processes such as design and layout, heat-treating, material handling and inspection.