November 08, 2018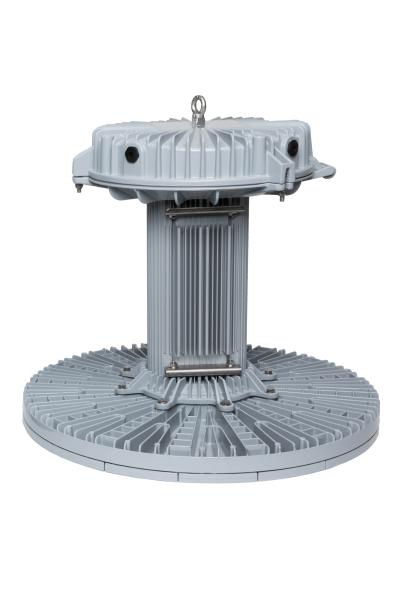 Dialight launched its new 72,000-lumen Vigilant High Output High Bay fixture, designed to deliver optimal illumination at mounting heights above 60 feet (18 meters).
The fixture is the first Dialight product to feature the company's new custom-designed remote power supply that can be mounted up to 200 feet away from the fixture. This results in a much smaller fixture profile, making it easy to mount even where limited ceiling space is available. The power supply can also be located safely outside of the lighted environment for maximum installation flexibility.
The new High Output LED fixture expands on Dialight's existing 45,000- and 60,000-lumen high-output products with 19 percent greater lumen efficiency, now up to 149 lumens/watt, to provide high-efficient lighting for lofty warehouses, shipyards, manufacturing and other applications with extremely high mounting height requirements.
Dialight will offer a version of this fixture with onboard occupancy sensor for mounting heights up to 40 feet, to enable even greater energy savings. The new High Output LED fixture is designed to be utilized globally, with UL-1598/A, CE, RCM and ENEC listings.
Dialight's precision optics direct the light where it's needed—in the work plane—without wasting light on the walls or ceilings. The new High Output LED fixture is also available with a new up-light diffuser accessory that projects 7% of light output upward onto the ceiling where desired.
"This latest High Output LED fixture takes our signature High Bay to a whole new level – literally – to provide superior visual clarity, efficiency and safety compared to HID equivalents, even in the most challenging locations," said Marty Rapp, Dialight Group chief executive. "This fixture is indicative of our commitment to responding to our customers' needs with flexibility and options to suit just about any application."
The High Output LED fixture carries an industry leading 10-year warranty covering the entire fixture.
Related Glossary Terms
fixture


fixture

Device, often made in-house, that holds a specific workpiece. See jig; modular fixturing.