July 28, 2017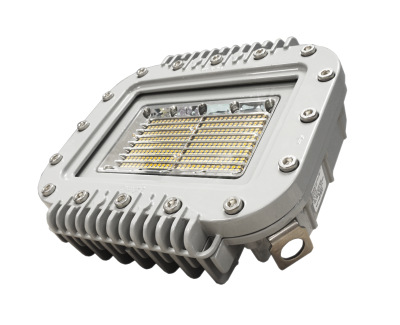 Dialight announced the launch of its next-generation Vigilant and SafeSite LED Area Light, offering high efficiency along with several new features that make it a flexible, functional and durable LED area light for industrial and hazardous area applications.
In the most aggressive technology upgrade to date for this product line, Dialight ramped up the Area Light efficiency to deliver up to 143 lumens per watt and added a new 9,000 lumen option to the product line. Coupled with new features like 0-10V dimming and 80 CRI, the updated fixture qualifies for DLC Premium classification on most models. An improved wide-optic design drastically improves lighting footprint, enabling one-for-two fixture replacements in conveyor and walkway applications to help customers reduce fixture count and infrastructure investment.
"Our newly redesigned Area Light represents a significant leap forward, combining all of our most innovative advances in power supply design, optics and fixture durability," said Michael Sutsko, Dialight's group chief executive. "Its outstanding performance, combined with a wide range of certifications and operational tolerances makes it one of the most versatile LED fixtures on the market."
Now covered by a 10-year warranty, the new Area Light offers:
100–277V AC and 100-277V DC operation with a single, purpose built, in-house designed, driver.
Superior salt spray corrosion resistance with an ASTM B117 certification for 3,000 hours of continuous exposure for outstanding resilience in off-shore applications.
Stainless steel hardware, including secondary retention tabs for added installation security.
A fully potted and sealed fixture rated to IP66, 67, 69 and NEMA 4X ingress protection.
Improved 360°, 180° and wide-throw optics to deliver more light precisely where it's needed and reduce fixture count and infrastructure.
0-10V dimming down to 5 percent output, providing flexible dimming options to dramatically reduce energy use.
Certifications including UL 1598/A and UL 844 CID1,2 CIID1,2 CIII. CE with ATEX/IECEx Zone 1, Zone 2 and INMETRO models coming soon.
80 CRI for outstanding color clarity, along with 5000K, 4000K and a new 2700K warm white CCT options.
A Universal Mounting Adapter (UMA) with integrated bracket system and wiring compartment for simplified wall, 45° wall, 45° stanchion and conveyor mounting.
The most retrofit adapters of any manufacturer in the industry, making an upgrade from virtually any existing system fast and simple.
Dialight's new Vigilant LED Area Light is available in 3K, 4K, 5.5K, 7K and 9K lumens, each available in both glass and polycarbonate lens options.
Related Glossary Terms
corrosion resistance


corrosion resistance

Ability of an alloy or material to withstand rust and corrosion. These are properties fostered by nickel and chromium in alloys such as stainless steel.

fixture


fixture

Device, often made in-house, that holds a specific workpiece. See jig; modular fixturing.