July 03, 2018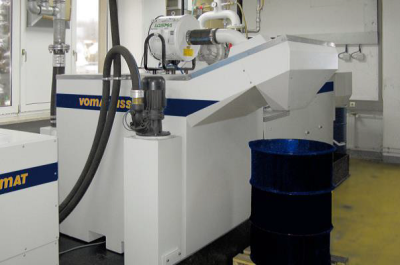 Vomat systems for filtering oils and removing ultrafine particles that result from grinding, honing, lapping and eroding are available from oelheld U.S. Inc. The automatically controlled filter backwash process is activated only on demand and fully separates contaminated and clean oil.
Energy consumption is low with the combination of frequency-controlled filter pumps and on-demand filtration. High-performance precoat filters ensure that clean oil meets the purity class of NAS 7 (3µm to 5µm) for the grinding process for long periods of time.
The filtration systems are low-maintenance, compact and are available in several sizes, ranging from stand-alone units for single machines to plantwide central systems. Their modular concept, offering a plethora of cooling and disposal options, along with the ability to handle mixed use of carbide and HSS, allows for customized systems.


Related Glossary Terms
grinding


grinding

Machining operation in which material is removed from the workpiece by a powered abrasive wheel, stone, belt, paste, sheet, compound, slurry, etc. Takes various forms: surface grinding (creates flat and/or squared surfaces); cylindrical grinding (for external cylindrical and tapered shapes, fillets, undercuts, etc.); centerless grinding; chamfering; thread and form grinding; tool and cutter grinding; offhand grinding; lapping and polishing (grinding with extremely fine grits to create ultrasmooth surfaces); honing; and disc grinding.

high-speed steels ( HSS)


high-speed steels ( HSS)

Available in two major types: tungsten high-speed steels (designated by letter T having tungsten as the principal alloying element) and molybdenum high-speed steels (designated by letter M having molybdenum as the principal alloying element). The type T high-speed steels containing cobalt have higher wear resistance and greater red (hot) hardness, withstanding cutting temperature up to 1,100º F (590º C). The type T steels are used to fabricate metalcutting tools (milling cutters, drills, reamers and taps), woodworking tools, various types of punches and dies, ball and roller bearings. The type M steels are used for cutting tools and various types of dies.

lapping


lapping

Finishing operation in which a loose, fine-grain abrasive in a liquid medium abrades material. Extremely accurate process that corrects minor shape imperfections, refines surface finishes and produces a close fit between mating surfaces.