July 01, 2015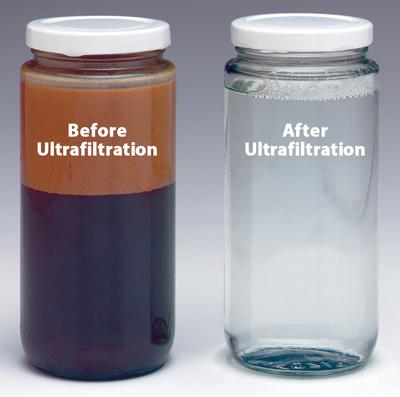 PRAB enhances its line of Ultrafiltration Systems for metalworking companies that separate emulsified oils and suspended solids from wastewater and coolant. The engineered systems use a hollow fiber, tubular or spiral wound membrane to achieve requiredµm filtration levels. Adding a PRAB Ultrafiltration System as part of a manufacturing process can reduce oily water volumes by as much as 90 percent without the use of chemical additives. Machine Shops can also decrease the cost of wash water detergents by up to 75 percent, and reducing disposal costs by 90 percent.
• Membrane technology eliminates the use of chemicals to treat oily wastewater.
• Fully assembled and tested, system offers turnkey installation to wastewater problems.
• Standard systems process between 100 and 6,000 gallons per day.
• Larger systems are available upon request.
• Effluent can typically be discharged to sewer or reused.
• Meet environmental sustainability goals, and reduce waste streams adhering to ISO-14001 standards.
"The recycle and reuse of wastewater has become a critical path in industrial manufacturing processes. Municipal restrictions are becoming more stringent and companies are left to find their own methods of compliance. Chemical additives have long been the means of achieving acceptable discharge levels; however, this option is becoming more challenging and costly as manufacturing becomes more dynamic and production materials are much more broad," states Andrew Flowers, PRAB National Sales Manager for the Wastewater division.
PRAB Ultrafiltration units are available skid mounted, fully automated systems. PRAB's ultrafiltration systems help companies meet zero manifesting goals and comply with federal RCRA requirements, as well as state and local discharge regulations.
• Common applications for a PRAB Ultrafiltration System include:
• Machining and Grinding – Water-soluble, semi-synthetic and synthetic coolants
• Wash waters – Alkaline and acidic wash waters
• Stamping – Heavily fortified stamping fluids and wash waters
• Transportation – Oily water vehicle discharge
• Vibratory Deburring – Oil and solid laden deburring liquids
• Pressure Washing – Oily water discharge
• Waste Treatment Floor Scrubber/Mop Water
Related Glossary Terms
coolant


coolant

Fluid that reduces temperature buildup at the tool/workpiece interface during machining. Normally takes the form of a liquid such as soluble or chemical mixtures (semisynthetic, synthetic) but can be pressurized air or other gas. Because of water's ability to absorb great quantities of heat, it is widely used as a coolant and vehicle for various cutting compounds, with the water-to-compound ratio varying with the machining task. See cutting fluid; semisynthetic cutting fluid; soluble-oil cutting fluid; synthetic cutting fluid.

grinding


grinding

Machining operation in which material is removed from the workpiece by a powered abrasive wheel, stone, belt, paste, sheet, compound, slurry, etc. Takes various forms: surface grinding (creates flat and/or squared surfaces); cylindrical grinding (for external cylindrical and tapered shapes, fillets, undercuts, etc.); centerless grinding; chamfering; thread and form grinding; tool and cutter grinding; offhand grinding; lapping and polishing (grinding with extremely fine grits to create ultrasmooth surfaces); honing; and disc grinding.

metalworking


metalworking

Any manufacturing process in which metal is processed or machined such that the workpiece is given a new shape. Broadly defined, the term includes processes such as design and layout, heat-treating, material handling and inspection.