January 23, 2018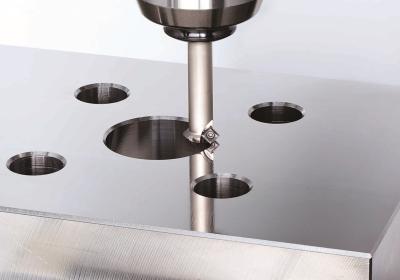 Tungaloy Corp. is adding an economical and multifunctional chamfer cutter series to its TungQuad family, allowing multiple types of chamfering operations to be completed with only one cutter.
Traditional edge conditioning requires hand grinders and other manual processes. Such methods are time consuming, requiring the part to be removed from the machine and refixtured for deburring and chamfering operations. For an efficient alternative to manual methods, manufacturers are integrating cutting tools in the edge conditioning process. This not only keeps machine downtime low, but also improves the definition of edge condition, accuracy, and repeatability.
In response to this trend, Tungaloy has long been present in the chamfering market, offering a wide range of tools, such as the ECC31 series, the ECP4400R series and TungMeister VCP, VCA, and VCW series.
The new TungQuad chamfer cutter adds versatility, complementing Tungaloy's chamfer tool range. The cutter uses compact inserts in positive, single-sided, square shape with a cutting edge length of 5.09mm (0.200"). This enables the same cutter to front-chamfer holes as small as 6mm (0.240") in diameter and back-chamfer holes with 13mm (0.510") in diameter, as well as chamfer along the edges.
The new cutter utilizes the existing SDMT05 and SDHT05 TungQuad inserts, in grades AH725, AH140, and TH10 for a wide variety of workpiece materials. Three types of standard cutter bodies are stocked in 12mm, 14mm, and 22mm shank diameters. Special cutters are available upon request.
Expansion currently available in metric shanks only.
Related Glossary Terms
chamfering


chamfering

Machining a bevel on a workpiece or tool; improves a tool's entrance into the cut.

shank


shank

Main body of a tool; the portion of a drill or similar end-held tool that fits into a collet, chuck or similar mounting device.
Additional Products from Tungaloy America Inc.