March 01, 2015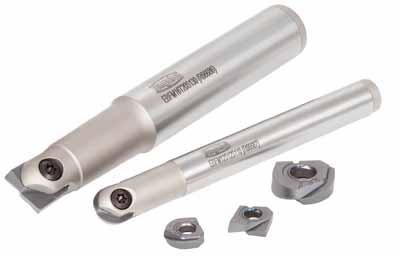 Tungaloy Corp. introduces TungFineBall, the new series of indexable endmills for high-precision finishing. The unique clamping mechanism, combined with the new coolant delivery system, makes it the best tool for machining die & mold and aerospace components.
The asymmetric insert shape secures rigid clamping and prevents the insert from dislocating. This mechanism helps provide excellent surface finish and stable, long tool life. The new coolant delivery system is also an innovative feature with TungFineBall. The insert has a coolant channel on the surface that delivers the coolant to the cutting edge from three directions, resulting in good chip evacuation and long tool life.
The series offers two types of inserts: ballnose and radius types; either of these two can be mounted on the same endmill. The shanks are available with steel and carbide in solid and modular type. These features make TungFineBall excellent for machining various materials, such as steel, stainless steel, hardened steel, and cast iron. TungFineBall is for high-precision finishing.
Main features:
• Best for machining die & mold and aerospace components
• Secure and rigid insert seating due to unique clamping mechanism
• Excellent chip evacuation and long tool life due to new coolant delivery system
Inserts: Ballnose and radius types
Endmill bodies: Steel and carbide shank, and modular type
Related Glossary Terms
coolant


coolant

Fluid that reduces temperature buildup at the tool/workpiece interface during machining. Normally takes the form of a liquid such as soluble or chemical mixtures (semisynthetic, synthetic) but can be pressurized air or other gas. Because of water's ability to absorb great quantities of heat, it is widely used as a coolant and vehicle for various cutting compounds, with the water-to-compound ratio varying with the machining task. See cutting fluid; semisynthetic cutting fluid; soluble-oil cutting fluid; synthetic cutting fluid.

endmill


endmill

Milling cutter held by its shank that cuts on its periphery and, if so configured, on its free end. Takes a variety of shapes (single- and double-end, roughing, ballnose and cup-end) and sizes (stub, medium, long and extra-long). Also comes with differing numbers of flutes.

shank


shank

Main body of a tool; the portion of a drill or similar end-held tool that fits into a collet, chuck or similar mounting device.
Additional Products from Tungaloy America Inc.