June 13, 2013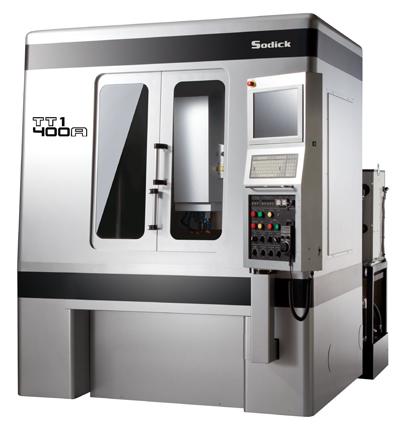 Sodick Inc. is expanding their product line with a new high speed electrode machining center, the TT1-400A. Designed and built in Japan, the TT1-400A is ideal for the milling of graphite and copper electrodes with extreme precision. Sodick developed the TT1-400A based on the advanced core technologies incorporated in the company's HS Series. The TT1-400A shares the same ultra precise motion control and linear motor drive platform that is utilized in the HS Series to reportedly achieve maximum speed and acceleration.
Sodick first introduced linear motor driven machines in 1999, replacing the ball screw technology. The TT1-400A benefits from the advantages of linear motor drives, including no ball screws, no backlash, no lost motion, increased cutting speed and no maintenance. The new LN3X controller, developed by Sodick America in San Jose, Calif., is designed to maximize the speed and acceleration of the Sodick linear motor drives, on the X, Y and Z axes and incorporates new features to simplify work setup.
The TT1-400A has an X, Y, Z travel of 15.75" x 9.84" x 11.81" (400 x 250 x 300mm), respectively. The maximum spindle RPM is 40,000 and the impressive maximum acceleration is 1.2G. Superior stability and the highest degree of precision, down to oneµm, are the top attributes of this new machine. Other standard features of the TT1-400A include Heidenhain Glass Scales, Blum Laser Tool Measurement, Integrated Torit Graphite Dust Collector, Air Purged Dust Protection, Oil Mist System with Mist Collector and an Integrated Part Probe. The Sodick TT1-400A heralds a new era in high precision electrode manufacturing.