May 25, 2016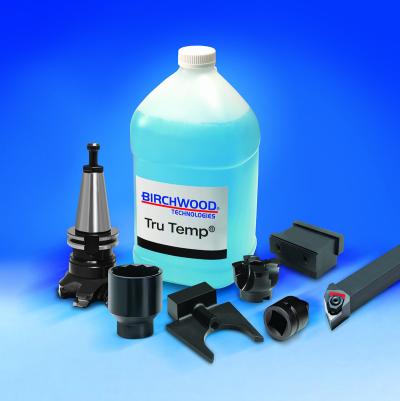 High-value tooling such as toolholders, workholding and turret press tooling takes on an attractive, protective black oxide finish when finished with the TRU TEMP low-temperature, nonpolluting black-oxide system from Birchwood Technologies. Extremely durable, the TRU TEMP process provides a satin black magnetite coating, 20 millionths thick (0.54 micron) with no effect on component material hardness or tensile strength. Components such as gears, sprockets and couplings operate with no functional change while the finish adds substantial protection. Tests verify TRU TEMP withstands up to 100 hours of neutral salt spray (ASTM B 117) or several hundred hours of humidity (ASTM D 1748).
Because of its protective qualities and superior visual appearance, tooling components finished with TRU TEMP can be promoted as premium products in their industry class. That's because TRU TEMP finished products stand out from standard grade finishes on tooling components and therefore easily command higher selling prices.
Application benefits for TRU TEMP are equally significant. Foremost, TRU TEMP operates at 90 degrees lower than traditional hot oxide. This eliminates severe splattering and boilover hazards of the hot oxide process. That's because the patented TRU TEMP process utilizes a unique oxidation process using milder chemicals at a much lower temperature.
Another TRU TEMP application benefit is the absence of redness and salt leaching frequently occurring on tool components when finished with conventional hot oxide. Most important, TRU TEMP has no EPA regulated metal content like other finishes. There is usually no need for waste treatment and rinse waters are sewerable as non-hazardous discharge. This benefit makes the TRU TEMP process attractive as a value-added, in-house process for vendor reduction programs.
Additional TRU TEMP advantages include easily-learned, short processing time of just 25 minutes. Operating cost is low with chemical costs averaging $.06 to .08 per pound of finished work, far less than if components are sent to outside finishers. Large parts are processed in-house on racks or in baskets and small parts can be processed in bulk loads.
New TRU TEMP process lines, from small, manual systems to large automated lines, are available from Birchwood Technologies. Most existing tank lines can be easily retrofitted for TRU TEMP at low cost.
Related Glossary Terms
black oxide


black oxide

Black finish on a metal produced by immersing it in hot oxidizing salts or salt solutions.

hardness


hardness

Hardness is a measure of the resistance of a material to surface indentation or abrasion. There is no absolute scale for hardness. In order to express hardness quantitatively, each type of test has its own scale, which defines hardness. Indentation hardness obtained through static methods is measured by Brinell, Rockwell, Vickers and Knoop tests. Hardness without indentation is measured by a dynamic method, known as the Scleroscope test.

tensile strength


tensile strength

In tensile testing, the ratio of maximum load to original cross-sectional area. Also called ultimate strength. Compare with yield strength.