February 01, 2014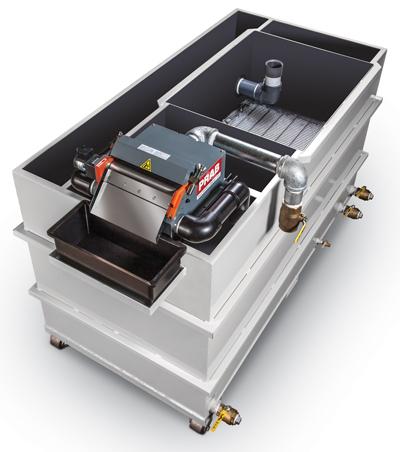 PRAB's Tramp oil Separator removes harmful tramp oils from coolant and wash water, improving machine performance, decreasing tool wear, and optimizing the effectiveness of cleaning processes and filtering. Using gravity flow and coalescence, PRAB's Tramp Oil Separator removes free floating and mechanically dispersed tramp oils from machine sumps, central systems and wash tanks to less than 1 percent in a single pass, helping to prevent wash water system problems associated with harmful contaminants; such as machine downtime, clogging of filters, and decreased efficiency.
The Tramp Oil Separator is engineered for industrial fluid applications to significantly reduce hazardous waste volumes and deliver a return on investment in as little as six to nine months. "The Tramp Oil Separator is an easy-to-use system that efficiently and economically separates tramp oils from valuable machining fluids and wash water," said Tim Hanna, Managing Director for PRAB Fluid Filtration. "This allows machine shops to capture, recycle and reuse wash water and a variety of coolant types that are typically disposed of and lost. Not only does this help customers save money on the expense of replenishing these fluids, it also protects machining equipment from excess wear, significantly reduces disposal costs and aids in meeting Environmental Protection Agency regulations and ISO 14001 compliance."
Depending on the nature of the particular fluid contamination, optional equipment is available to further enhance operational performance. This includes automatic air spargers to remove sludge and solids from the separator, coolant managers, customized electrical controls, and a variety of prefiltration options to meet specific manufacturing needs.
Companies continue to recognize the social and financial benefits of environmental stewardship, finding the most impactful change they can make in their manufacturing processes is to decrease landfilling and optimize their water use. PRAB's Tramp Oil Separator is a cost-effective and low-maintenance solution to this corporate initiative, effectively accomplishing both of these objectives with a short return on investment. In addition to reducing waste and reusing valuable water, the Tramp Oil Separator can provide a secondary revenue stream for the collected tramp oils, which can also be recycled and reused or sold, further cutting production costs.
Related Glossary Terms
coolant


coolant

Fluid that reduces temperature buildup at the tool/workpiece interface during machining. Normally takes the form of a liquid such as soluble or chemical mixtures (semisynthetic, synthetic) but can be pressurized air or other gas. Because of water's ability to absorb great quantities of heat, it is widely used as a coolant and vehicle for various cutting compounds, with the water-to-compound ratio varying with the machining task. See cutting fluid; semisynthetic cutting fluid; soluble-oil cutting fluid; synthetic cutting fluid.

tramp oil


tramp oil

Oil that is present in a metalworking fluid mix that is not from the product concentrate. The usual sources are machine tool lubrication system leaks.