September 17, 2018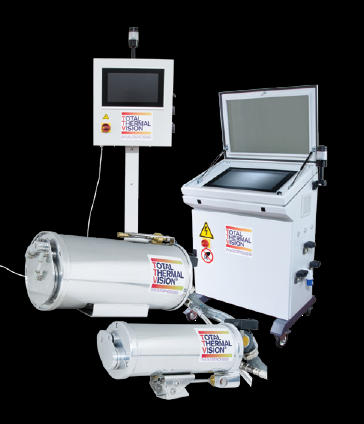 Marposs offers the new TTV (Total Thermal Vision) Die Temperature Monitoring solution for light alloys. This infrared vision system provides real-time measuring of the die surface temperature, allowing casters to quickly adjust and optimize the spraying process to mitigate issues that can occur when the die temperature is out of control.

The surface distribution of die temperature is crucial for high quality, efficient and faultless processes. Most defects in die casting such as shrinkage, porosity, cracks, and blisters are caused by the die temperature being out of control. TTV allows the critical points of the casting mold to be monitored by defining the relative temperature ranges and the regions to control.
Without increasing the cycle time, a thermal map is created via thermographic cameras integrated into the machine, capturing images before and after the lubrication process to detect any changes. The TTV operator interface displays the thermal maps of the die in real-time, sending an alarm if the temperature value measured is above or below the limit set, which allows the operator to make adjustments to improve the cycle and optimize the production process.
The TTV systems consist of a controller and two thermographic camera units. The controller has a built-in touch screen PC with a full-color graphic interface and a PLC that communicates with the die casting machine. Each of the thermographic cameras comes with a high performance infrared sensor and imaging processing electronics. These cameras are protected within stainless steel housing fitted with geranium glass, which is protected by an air-operated shutter and an air jet that cleans the window during the die casting process.
Related Glossary Terms
alloys


alloys

Substances having metallic properties and being composed of two or more chemical elements of which at least one is a metal.

die casting


die casting

Casting process wherein molten metal is forced under high pressure into the cavity of a metal mold.

vision system


vision system

System in which information is extracted from visual sensors to allow machines to react to changes in the manufacturing process.