April 13,2013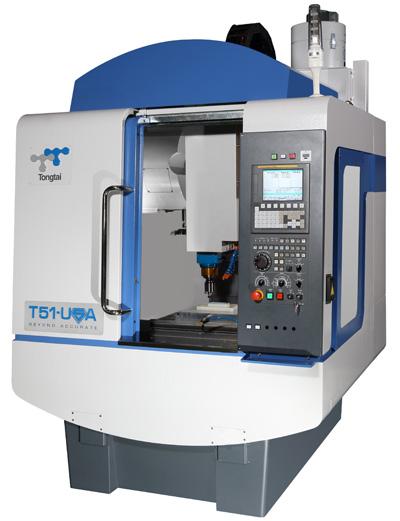 Tongtai offers a new ultrasonic machining center, which is available from Absolute Machine Tools Inc. Named the TT51-USA, it inherits the concept of aesthetic sheet metal design, user-friendly operation interface and machining precision.
For hard and brittle materials, Tongtai has developed a noncontact electrical material elimination supply with ultrasonic machining technologies. The advantage of electricity without contact is eliminating oxidation so there is no chance of unstable machining and electric leakage. With the ultrasonic machining device, the machining efficiency of the original spindle has been improved from three to five times. The material eligible for ultrasonic machining includes aluminum alloy, hardened steel, glass, and ceramic materials.
The T51-USA adopts the 0i-MD controller with spindle speeds up to 20,000 rpm. Those are combined with a spindle cooling system that uses recycled coolant to avoid thermal distortion during long-term machining. Furthermore, the direct-drive type spindle connects with the motor by coupling to enhance output in horsepower and torque.
Three axes feeding devices adopt FANUC "alpha" series servomotor and precision level ballscrews and linear guide ways. This allows the rapid traverse to achieve 1890 ipm. Moreover, the increase in speed acceleration and deceleration improves machining efficiency.
The design for the new machine is aesthetically appealing, while floor space is optimized. According to Tongtai's concept of user-friendly operation interface, T51-USA uses centralized management of the solenoid valve of air pressure and lubrication pump for facilitating the daily maintenance. Furthermore, all lines and piping including: electricity, oil pressure, air pressure, and cutting, have been redesigned for an outstanding machine appearance.