October 13, 2013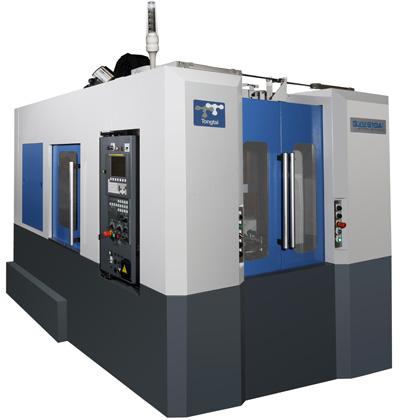 QMV-610AII+APC, Tongtai's new Vertical Machining Center with automated pallet changer from Absolute Machine Tools Inc., is an upgraded and improved machine from the QVM-610A+APC. The mechanical designers carefully analyzed the machine structure and selected spindle distortion as a main improvement. Along with cross-evaluation of linear guide ways, ballscrews, and castings, many other improvements were also implemented.
Through strengthening the machine bed structure, decreasing the spindle saddle weight, and improvement of pallet rigidity, the structure of the moving column was enhanced. German-made Rexroth linear guide ways assure excellent machining performance in heavy-duty cutting. After practical tests, rigidity of the three axes significantly increased.
The APC structure has been improved to enable more side direction machining efficiency with pallet loads of 880 lbs. in each single side, and a triple clipping device (patent pending) to improve stability. The APC is driven by a roller gear type motor with an indexing time of only four seconds. Furthermore, an intelligent loading device function detects the workpiece weight and will change the rotary speed automatically to extend the usage life of the device.
The efficiency of tool changing has been increased by adjusting the rate of deceleration and improvement of tool arm speed, the time of T to T is now two seconds. Furthermore, the built-in encoder enhances the reliability during tool changing and has successfully finished the millionth tool changing test in Tongtai's factory.
Related Glossary Terms
machining center


machining center

CNC machine tool capable of drilling, reaming, tapping, milling and boring. Normally comes with an automatic toolchanger. See automatic toolchanger.