August 13,2012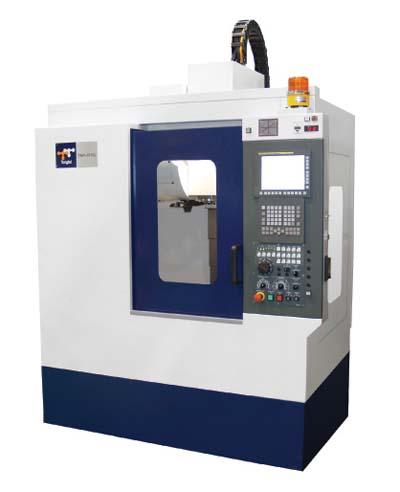 Machine tool importer Absolute Machine Tools Inc. has introduced the TMV-510G machining center for graphite components from Tongtai Machine & Tool Co. Ltd. The TMV-510G is engineered for high speed, efficient production of precision graphite electrodes and similar items. A fixed column/moving table type machine, it features a high performance 20,000 RPM direct drive spindle that is oil cooled for thermal stability, and a 20 station high-speed arm-type automatic tool changer (ATC) that produces tool changes in 0.8 seconds and chip-to-chip times of 1.9 seconds.
With X-Y-Z travels of 20", 14.2", and 11.8" (500mm, 355mm, 295mm) respectively, and a 23.6" x 13.6" (590mm x 340mm) work table area, the machine offers useful work volume in a compact 95" x 55" x 90" (2,375mm x 1,375mm x 2,250mm) footprint that conserves valuable shop floor space. The standard spindle features a Fanuc Alpha 2/20000i 5HP high torque motor and a Big Plus 30 (BBT-30) dual-contact spindle taper for added rigidity. Further rigidity, and resulting precision, is provided by the machine's Meehanite cast iron frame and linear slideways. The double-nut preloaded design of the machine's Class-3 25mm (1")-diameter ballscrews permits a standard rapid traverse rate of 1,890 inches per minute (47,250mm/min) in all axes. In addition, non-productive time is minimized via an APS (Absolute Pulse Coder) servo system that does not require return to zero and thereby enables the machine to be started anytime from any position.
The TMV-510G has features provided specifically for graphite machining. The arm-type ATC keeps tools away from contamination and out of the work zone, and a standard full cover on top of the machine contains dust. A Donaldson Torit DFO 2-2 1200 CFM dust collector efficiently evacuates dust from the machine, and automatic shakers clean the filters and deposit the dust into a convenient-to-empty hopper. For ease of use, the machine's Fanuc 31iM-B control offers a standard conversational Manual Guide i Fanuc shop floor programming system. The control also facilitates high speed 3-D machining with a high speed machining package that includes 600 block look-ahead capability and a Data Server with FAST Ethernet connection for mass program storage.