June 01, 2011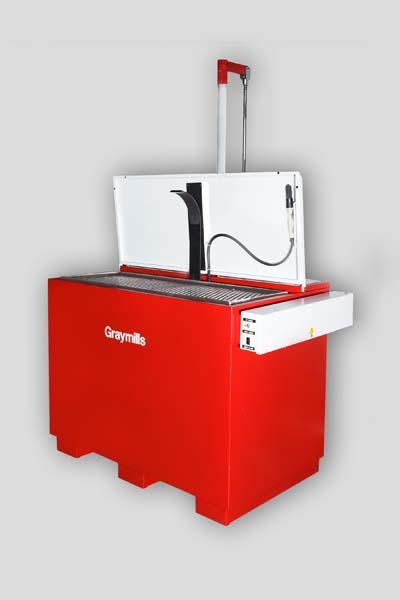 The new TL Series Liftkleen semi-automatic, immersion parts washer from Graymills offers operating capabilities and features commonly only found in high end equipment. This is an affordable work horse.
The TL Series features heavy gauge metal construction with durable powder coated exteriors. For water-based (aqueous) applications, the TL Series adds Stainless Steel construction, an insulated tank, and thermostatically adjustable heat up to 180°F.
Powerful electro-pneumatic lift mechanisms provide 300 lbs. of weight capacity with adjustable stroke and speed settings. Generous platform and tank dimensions accommodate large parts up to 47"L x 18"W x 24"H. The automatic open-and-close lid and deluxe, filtered detail brush and recirculation pump allow spot cleaning of those difficult to reach areas and add to the functionality of this multi-use equipment. An available 3000GPH internal agitation pump for improved in-tank cleaning, and filtration and oil skimmer for fluid consistency round out the features of the TL's offerings.