July 13, 2013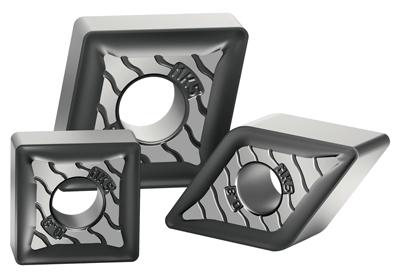 Walter has introduced Tiger-tec Silver ISO K inserts, designed to boost performance and reliability in the machining of gray cast iron, ductile iron, and higher strength steel alloys under difficult conditions. These inserts achieve dramatic performance increases due to the new aluminum oxide coating with an optimized microstructure that delivers improved crater wear and heat resistance. They also permit reduced machining time by enabling higher cutting parameters, and are suitable for wet or dry machining.
Add to this a new post-coating treatment that provides increased edge toughness, improved process reliability, and trouble-free machining of interrupted cuts and cross holes; plus reduced tool changes due to increased tool life, and you've got a system that can boost performance by up to 75 percent.
The Tiger-tec Silver ISO K has an MK5 geometry that features an open chip groove for reduced cutting forces and low cutting temperatures, a strong zero degree land plus a ground seating surface, all combining to further boost reliability and process security even with dynamic loads.
Tiger-tec Silver ISO K comes in two grades, WKK10S and WKK20S. WKK10S has higher wear resistance due to its thicker aluminum-oxide coating, while the WKK20S has greater toughness. WKK10S is ideal for high-speed operations where heat and wear resistance are of prime importance; an additional application is on hardened steels in the range of 40-60 HRC. WKK20S is focused demanding applications in all types of iron, tempered alloy steels such as 4140, 4150, and L6, high tensile strength steels (greater than 140,000 psi), as well as forgings. It excels in heavily interrupted cuts in components like differential cases as well as handling the dynamic loads from rough machining out-of-round castings and forgings.