January 13, 2013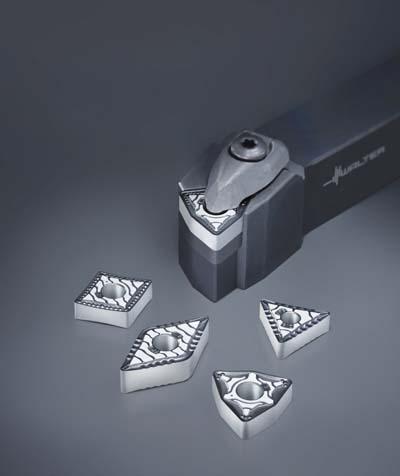 Walter USA LLC has announced that its Tiger-tec Silver for Turning product line has fielded four new cutting tool insert geometries: the RP5 for roughing, the MP5 for medium machining, the MP3 for low carbon steels, and the FP5 for finishing. Together, these new additions make Tiger-tec Silver for Turning a comprehensive, single-source solution for the full range of steel turning needs.
The rugged RP5 geometry excels at roughing with high depth of cut and feed rate. Its strong, positive 3°Chamfer reduces power requirements and its open, deep and wide chip breaker groove maintains low cutting temperature, reducing wear. A wider chamfer in the center region of the main cutting edge prevents chipping when machining as-cast or as-forged components.
The versatile MP5 geometry was specifically designed for general machining of steel. From continuous cutting of bar stock to interrupted cuts, the MP5 can handle them all with its universal, strong three-center curve cutting edge. In addition, its reinforced chip breaker blades ensure better chip breaking and reduced tool wear.
The MP3 geometry excels at medium machining on long chip forming steels such as low carbon and forging steels. Its cutting edge is ideal for machining forged parts such as gearwheels, ball joints, transmission shafts or cold pressed sheet components such as cover plugs or converter housings. The spherical surface features in the chipbreaker--the so-called "bullet design"--gives the chip greater rigidity for optimal chip breaking.
For finishing operations and light cuts, the FP5's double V chip breaker provides reliable chip control during turning operations from 0.008-in. depth of cut. It has a positive, curved cutting edge to reduce the tendency to oscillate, thus allowing excellent surface finishes; and its undulating chip formers prevent chip packing in turning and facing operations.