August 01, 2017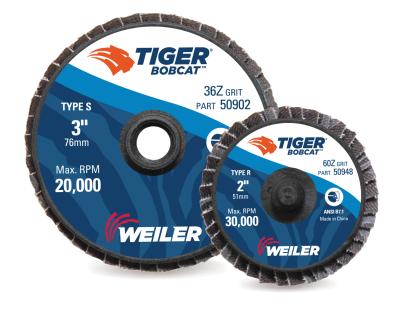 Weiler Abrasives Group has announced the expansion of its Tiger BobCat mini flap disc offering, along with design improvements to enhance performance and extend product life. The enhanced design of the Tiger BobCat mini flap discs offers one and a half times greater life compared to the original BobCat flap discs, lowering the total cost of use.
Tiger BobCat mini flap discs are ideal for grinding and finishing jobs in hard-to-reach areas, and for weld blending or edge chamfering in metal fabrication. When the application calls for aggressive grinding, these flap discs are designed to shed cloth and expose new grain, delivering a consistent, aggressive cut rate. They remove three times more material over the life of the disc than a comparable blending disc, and operate best on steel, stainless steel, structural steel and cast iron, according to the company.
The expanded Tiger BobCat family of products now features a threaded button "R" mount, as well as the current threaded arbor "S" mount — to fit the most popular styles of backup pads and offer greater versatility. Available in angled and flat styles, the discs are for use on right-angle die grinders to provide smooth grinding and improved conformability in tight areas. Both types of wheels are available in 2- and 3-inch diameters.