March 01,2015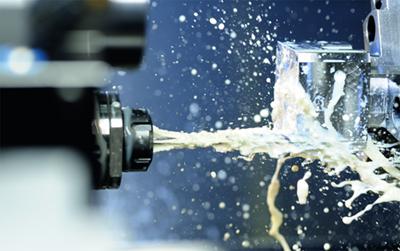 Heimatec, a world leader in live tools, angle and multispindle drill heads, announces availability of its newest development, a coolant-through feature on all the company's line items.
Coolant-through technology is often the answer for faster, cleaner cutting on larger and deeper parts, where the chips and excess heat build-up are significant challenges. Heimatec offers high-pressure coolant-through designs up to 1,000 psi on straight and 2,000 psi on angle head tools.
Company President Preben Hansen comments, "Production drilling should almost always be done with internal coolant tools and this development means we'll be able to satisfy more customer needs in that area."
A full range of styles and pressures is available immediately, according to the company.
Related Glossary Terms
coolant


coolant

Fluid that reduces temperature buildup at the tool/workpiece interface during machining. Normally takes the form of a liquid such as soluble or chemical mixtures (semisynthetic, synthetic) but can be pressurized air or other gas. Because of water's ability to absorb great quantities of heat, it is widely used as a coolant and vehicle for various cutting compounds, with the water-to-compound ratio varying with the machining task. See cutting fluid; semisynthetic cutting fluid; soluble-oil cutting fluid; synthetic cutting fluid.
Additional Products from Platinum Tooling Technologies Inc.