July 29, 2019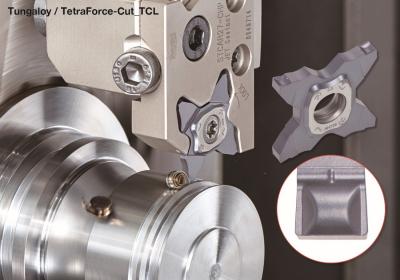 Tungaloy expands its TetraForce-Cut, a four-edged indexable grooving tool series, to include the new TCL27-style chipbreaker.
TetraForce-Cut's indexable insert boasts cost-effective, four cutting edges with a grooving depth of up to 6.4mm. The toolholder has a unique insert clamping structure that ensures high repeatability and accuracy for maximum insert stability and tool life.
The new TCL27-style chipbreaker features a deep dimple profile on the rake face, providing low cutting force and effective chip control during difficult grooving operations. The geometry is available in a universal AH725 grade, which improves machining efficiency and stability.
Combined with existing TCS27- and TCM27-style chipbreakers, the comprehensive offering of TetraForce-Cut grooving inserts will meet a wide range of grooving needs in general lathes and Swiss-type machines.
At a Glance
New TCL27-style chipbreaker provides stable chip control and low cutting force
A deep dimple profile of the rake face ensures chip ejection in deep grooves, eliminating chip entanglement on the workpiece
Ideal for carbon steel, alloy steel, stainless steel, as well as heat-resistant alloy
Additional Products from Tungaloy America Inc.