May 01, 2011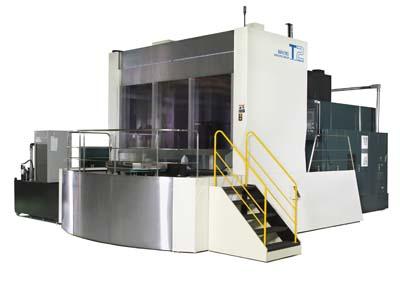 Makino offers the new T2 5-axis horizontal machining center with ADVANTiGE technology designed for mid-sized titanium aerospace part production. Its purpose-built design provides the rigidity, dynamic stiffness, vibration damping and agility necessary for more productive titanium machining and longer tool life.
"Makino's ongoing titanium research and development continues to offer the most effective process solutions for a wide variety of today's aerospace structural and engine components," says Mark Larson, Makino's Titanium Process R&D Manager. "Our latest solution, the T2 with ADVANTiGE technology, is like no other titanium machining center on the market today. Specifically designed from the ground up for high-efficiency titanium part production, it effectively reduces hazardous vibration and thermal conditions traditionally associated with titanium machining."
The T2 provides X-, Y- and Z-axis travels of 2,000mm, 2,000mm and 1,800mm, respectively, allowing for part sizes up to 1900mm by 2000mm and 5,000kg. The T2's construction features large way surfaces and table casting for extra rigidity and vibration damping, as well as a 120-position automatic tool changer (up to 190 available) for continuous, uninterrupted machining.
T2's HSK-A125 spindle is Makino's most powerful spindle to date, delivering higher torque, horsepower and clamping force than all predecessors. Its compact design combines the latest induction motor with twin-inverter-drive technology for higher torque (740ft-lbs, 133HP continuous; 1,100ft-lbs, 200HP peak). The spindle is supported by roller bearings to ensure high rigidity, which keeps the energy loss to one-half that of conventional gear-driven spindles. The spindle delivers a maximum speed of 4,000 rpm. The A- and C-axes increase part accessibility with a +/-110-degree A-axis rotation and a 360-degree continuous C-axis rotation.
The T2 includes an automatic pallet changer system that features continuous operation and eliminates costly downtime for part changeovers with pallet change times of only 60 seconds. This machine can also be integrated with an automatic pallet transfer and storage system in a highly flexible Makino Machining Complex (MMC) for extended periods of unattended operation. This automation system assigns work and initiates operations automatically, maximizing spindle utilization for increased productivity.
Related Glossary Terms
dynamic stiffness


dynamic stiffness

Measure of a machining system's ability to dampen vibration from a forced input. If the dynamic stiffness of a system is not sufficient to dampen vibration, chatter occurs. See static stiffness; stiffness.

machining center


machining center

CNC machine tool capable of drilling, reaming, tapping, milling and boring. Normally comes with an automatic toolchanger. See automatic toolchanger.

stiffness


stiffness

1. Ability of a material or part to resist elastic deflection. 2. The rate of stress with respect to strain; the greater the stress required to produce a given strain, the stiffer the material is said to be. See dynamic stiffness; static stiffness.
Additional Products from Makino Inc.