March 27, 2017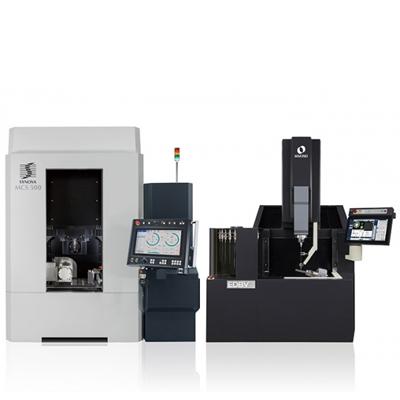 As aerospace and industrial gas turbine manufacturers strive to improve performance, the need for high-quality hole drilling of turbine engine components is rapidly becoming mission-critical. To address this need, Synova and Makino are joining forces to offer a unique solution, the HybridCell, which combines the power of Synova's Laser MicroJet® (LMJ) with Makino's leading edge EDM capabilities. It is a fully automated, manufacturing-ready, work cell that can handle a wide range of hole-drilling applications.
The HybridCell consist of a MCS 500 cutting system, along with Makino's EDBV EDM hole-drilling machine. The system is available through Makino's extensive North American Single Source Technologies sales channel.
The Laser MicroJet system is used to cut diffuser shapes in the coating layer and drilling metering holes, while the EDBV is used to drill deep through holes. The machine tasks are easily balanced between the HybridCell machines, ensuring an optimum throughput. An innovative solution is provided to handle difficult "non-line of sight" holes on the EDM machine. A sophisticated data transfer scheme is also part of the cell, enabling high accuracy hole-drilling of complete components.
Related Glossary Terms
electrical-discharge machining ( EDM)


electrical-discharge machining ( EDM)

Process that vaporizes conductive materials by controlled application of pulsed electrical current that flows between a workpiece and electrode (tool) in a dielectric fluid. Permits machining shapes to tight accuracies without the internal stresses conventional machining often generates. Useful in diemaking.