November 01, 2014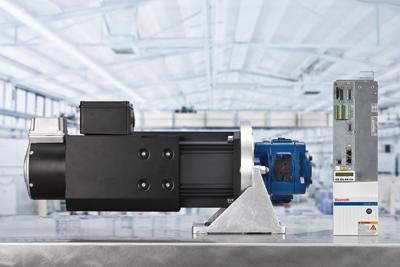 The new SVP 7010 expands the Sytronix family of ready-to-install variable-speed pump drives offered by Rexroth. With a comprehensive selection of hydraulic-specific functions, it is suited to a broad range of applications. Rexroth has integrated functionality, which in the past required proportional or servo valve technology, into a servo-drive to provide high control accuracy and dynamics. The control utilizes state-of-the-art functionality and can eliminate pressure "overshoot" and position linear axes to a high degree of accuracy, without instability. Additionally, unique algorithms allow for the reduction of pressure ripple inherent in certain pump designs. These pre-programmed features can reduce the engineering effort of machine manufacturers allowing simple startups with a minimum of tuning parameters.
In addition to the performance offered, the energy saving potential of the SVP 7010, with pump speed reduction during idle and partial load operation, can result in energy savings up to 80 percent as compared to conventional drive technologies. Additional energy savings can be realized when multiple drives with overlapping machine cycles are interconnected, or when drive regeneration is used. Energy storage using capacitor banks or kinetic storage regenerated during deceleration and braking motions can be utilized in other portions of a machine's cycle. An additional benefit is the reduction in average noise emissions when using the SVP 7010. Sound-reducing technologies that may have been required in the past may no longer be required, resulting in simpler designs and lower costs.
Rexroth comprehensive application experience brings additional functions into the control, such as the Productivity Agent, can provide condition-related maintenance information to minimize downtime and lower maintenance costs.
The SVP 7010 covers a wide performance range up to 120 kW and is therefore ideal for a broad range of machine applications. A new series offers a direct coupled motor/pump assembly which reduces the overall length by 20 percent and reduces the inertia of the drive by up to 50 percent, boosting dynamics significantly.
The SVP 7010 can be used in both open and closed loop hydraulic circuits. Pumps for 2 or 4 quadrant operation are offered, with three levels of performance which allows the correct fit for nearly any machine configuration. The Sytronix family comprises more than 100 preconfigured drive/pump combinations to meet the requirements of machine applications and performance. System performance of these Rexroth matched drive components offer a high level of confidence that application requirements can be met.
Related Glossary Terms
overshoot


overshoot

Deviation from nominal path caused by momentum carried over from previous step, as when a tool is rapidly traversed a considerable distance to begin a cut. Usually applies to CNC machining and is prevented if the control has the appropriate look-ahead capability. See look-ahead; undershoot.