April 18,2016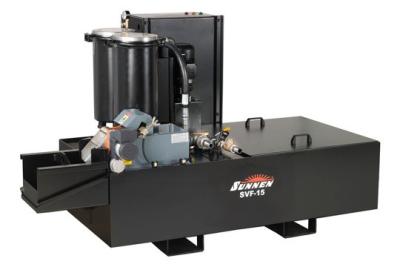 Sunnen's new SVF series Grit Guard coolant filter is a build-to-suit solution with progressively higher levels of filtration available, along with chilling, to meet process requirements in abrasive machining. Base Grit Guard models are available in 55- and 110-gallon capacities, equipped with twin and quad Sunnen PF filter cartridges, with a total filtration capacity of 8,800 in.2 and 17,600 in.2 respectively. Modular design allows adding a deep bed paper filter (110-gallon only), magnetic separator and cooling to suit the application. A heavy-duty, two-stage centrifugal pump provides a nominal flow rate of 2.5 gpm. Large easy to access settlement tank increases efficiency and filter element life. Sunnen PF filter cartridges are available for 11, 18, and 60-micron chips in both oil and oil/waterbase compatible configurations. The magnetic separator option is capable of handling chips up to 100 micron size, the Grit Guard filter is ideal for most grinding, lapping and honing operations.
The US-made Grit Guard filter is robustly built with high-reliability components and convenience features, such as fork truck pockets, level gauge, filter-pressure gauge, spare filter storage compartment, and overpressure protection. The high capacity swarf container is equipped with a hoist eye, and a drain tray allows used filters to be drained back into the tank before disposal.
Grit Guard filters have a NFPA-79 compliant electrical system and a robust Brinkman progressive-stage centrifugal pump. Options include an integrated PRAB magnetic separator, deep bed paper filter (110-gallon only), and Turmoil chiller. A unit status light, that alerts operators to reduced flow conditions, is standard. Grit Guard filters come with full documentation, and Sunnen stocks spare parts for rapid delivery.