December 07, 2015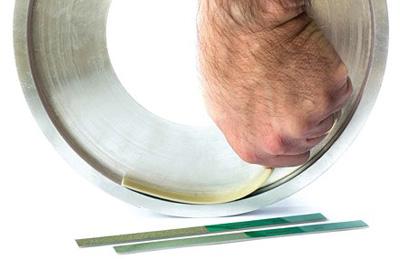 Titan Tool Supply Inc. announces the introduction of its new line of flexible diamond finishing files for the removal of material in the maintenance of extrusion dies, aircraft components, and other difficult-to-reach areas for conventional means of finishing. They are designed for working with materials such as tungsten carbide, stone and marble, composite materials, industrial ceramics, reinforced plastics, fiberglass, ferrite materials, nonferrous materials, rubber, and glass.
"Super Flex" files are extremely long, measuring 7.08" (180mm) in length, 0.50" (12.7mm) in width and are extra flexible for use in narrow slots where access is difficult. Despite the thinness, they are strong, according to the company, because they are constructed of metal. Plated length of Super Flex is 1.97" (50mm), and they are available in nine models with thicknesses (after plating) ranging from 0.006" (0.17mm) to 0.035" (0.9mm) and grit sizes of 1200 (two models), 500/600 (two models), 270/325 (two models), 170/200 (two models) and 120/140 (one model).
The unique new Composite Flex Files are the first files to be made on a non-steel based blank, Titan Tool states. They are constructed of a special lightweight, composite material for strength and flexibility. Its dot matrix plating enhances removal of the filed material to provide a superior surface finish. With a length of 6.70" (170mm), width of 0.55" (14mm), thickness of 0.07" (1.7mm) and plated length of 3.45" (88mm), they are available in three models with grit sizes of 325/400, 200/230, and 120/140.