June 08, 2016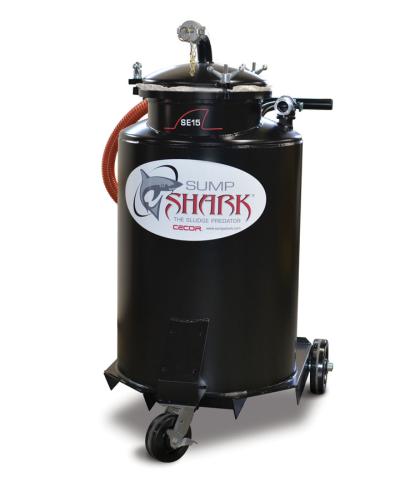 The new single-phase electric, 60-gal. Sump Shark sump cleaner is available from Cecor Inc. With a suction lift of 13" Hg or 177" water and pumping rate of 60 gpm, the SE15-60PL can suck up an entire sump of metalworking fluid entrained with sludge or chips in just minutes. As contents enter the Sump Shark, the onboard filter separates fluid from the solids. The filtered fluid will be pumped back into the tank.
The SE15-60PL has the same space-saving vertical design as the popular SA5-60PL (air) unit, but can be plugged into any standard 110v electric outlet. This plug'n'play feature makes the SE15-60PL convenient to use in a variety of locations.
Using a Sump Shark sump cleaner is much easier and faster than trying to clean a sump using a pail and shovel, shop vac or diaphragm pump. Doing the job faster will decrease labor costs and machine tool downtime. In addition, using coolant longer and disposing of less will cut costs even further.
The SE15-60PL has overfill protection and all discharge ports are valved. Unit comes complete with hoses, quick-disconnect coupler, suction tools and filter bags. Optional F23 filter (2.3 cu.ft.) is available for coolant heavy with chips and swarf. DF4 discharge filter is available for finest filtering.
Related Glossary Terms
coolant


coolant

Fluid that reduces temperature buildup at the tool/workpiece interface during machining. Normally takes the form of a liquid such as soluble or chemical mixtures (semisynthetic, synthetic) but can be pressurized air or other gas. Because of water's ability to absorb great quantities of heat, it is widely used as a coolant and vehicle for various cutting compounds, with the water-to-compound ratio varying with the machining task. See cutting fluid; semisynthetic cutting fluid; soluble-oil cutting fluid; synthetic cutting fluid.

metalworking


metalworking

Any manufacturing process in which metal is processed or machined such that the workpiece is given a new shape. Broadly defined, the term includes processes such as design and layout, heat-treating, material handling and inspection.

swarf


swarf

Metal fines and grinding wheel particles generated during grinding.