June 01, 2010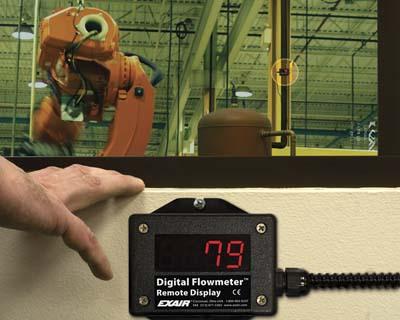 Exair Corp.'s new Summing remote display for the digital flowmeter makes it easy to monitor compressed air consumption from a convenient location. With the push of a button, the display cycles to show the current air consumption, usage for the previous 24 hours and total cumulative usage. Regular monitoring of the air usage of a machine, process or department makes it possible to save thousands of dollars per year in compressed air waste by identifying the costly leaks or inefficient air products. The Digital Flowmeter (sold separately) has a four digit LED display that directly indicates the cfm (standard cubic feet per minute) of airflow through the pipe it is mounted to. The Summing remote display shows that flow measurement, the daily and cumulative usage and is frequently used when the digital flowmeter is in an obscure, hard-to-read location. The accuracy of the displayed measurement is within 5 percdent of the reading when the air temperature is 40 to 120°F (4 to 49 degrees C) and air pressure is between 30 to 140 psig. No adjustments or calibration are ever required, acccordin to the company. It is CE and RoHS compliant. Two models of the Summing remote display are available (Model 9150 that displays cfm and Model 9150-M3 for m3/hr.). It is prewired with 50' (15.2m) of cable and is powered by the digital flowmeter. Mounting hardware is included. Price is $235.
Related Glossary Terms
calibration


calibration

Checking measuring instruments and devices against a master set to ensure that, over time, they have remained dimensionally stable and nominally accurate.