March 29, 2022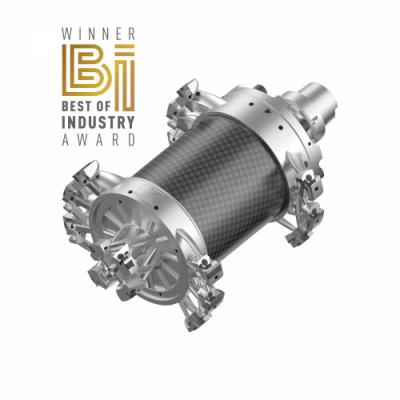 Kennametal has introduced its next generation 3D printed stator bore tool for the machining of aluminum engine housings for electric vehicles. This latest version of the tool features a newly designed arm structure, a larger center tube made of carbon fiber, and a further weight reduction of greater than 20 percent over the original design. The complex tool is capable of machining three large diameters in just one operation, saving set-up time and machining time for automotive component manufacturers and delivering the highest accuracy and surface qualities.
The 3D printed stator bore tool with carbon fiber body weighs 7.3kg.
The newly redesigned tool recently won MM MaschinenMarkt's Best of Industry Award in the Production and Manufacturing category based on votes by readers and industry experts.
"As our automotive customers expand their offerings of hybrid and electric vehicles, we continue to respond to their need for lighter weight tooling solutions. By leveraging advanced manufacturing techniques like 3D printing, we've reduced weight a further 20 percent over the first-generation tool, while improving chip control and increasing tool rigidity—innovations that help our customers machine faster and more efficiently," says Ingo Grillenberger, Product Manager, Kennametal.
Machining three diameters in one operation, the stator bore tool ensures the alignment and concentricity of the machined surfaces whilst reducing the cycle time significantly. The lightweight 3D printed combination tool enables a faster tool change and spin-up even on less powerful machines. The surface specifications and component tolerances are achieved without constraints.
Hassle-free chip removal is ensured by means of airfoil shaped arms that are through coolant featured to ensure precise and powerful coolant supply to the cutting edges and guide pads. This would be difficult or impossible to economically produce with traditional manufacturing, but 3D printing enables us to realize even such complex internal features. Additionally, the Kennametal RIQ reaming system features easy diameter adjustment and a trouble-free setup of new inserts.
Related Glossary Terms
coolant


coolant

Fluid that reduces temperature buildup at the tool/workpiece interface during machining. Normally takes the form of a liquid such as soluble or chemical mixtures (semisynthetic, synthetic) but can be pressurized air or other gas. Because of water's ability to absorb great quantities of heat, it is widely used as a coolant and vehicle for various cutting compounds, with the water-to-compound ratio varying with the machining task. See cutting fluid; semisynthetic cutting fluid; soluble-oil cutting fluid; synthetic cutting fluid.
Additional Products from Kennametal Inc.