June 27, 2017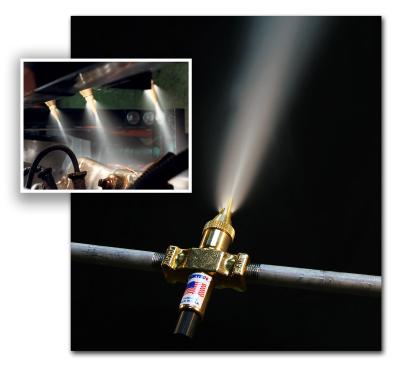 Vortec introduces Spray Nozzles for ultrafine droplet-sized sprays suitable for evaporative cooling. Spray nozzles atomize the liquid stream by high-velocity compressed air to create a range of 20-200 micron-size spray droplets, resulting in greater surface coverage than conventional nozzles.
Droplet size and production is not dependent on liquid pressure, and the spray nozzles can produce finer drops than hydraulic nozzles. This more efficient use of the liquid accelerates air-liquid interaction to give more effective cooling while the smaller droplets expose more surface area, increasing evaporation rate. Consistent and effective cooling of surfaces reduces heat distortion of parts.
Three types of spray nozzles are available. The fogging nozzle produces a directed spray, having droplet sizes of 20-60 microns and a flow rate of 0-30 gallons per hour with liquid viscosities up to 1100 cPs, ideal for evaporative cooling. The atomizing nozzle has a directed spray of 60-200 microns and a flow rate of 0-30 gpm with liquid viscosity up to 1100 cPs. The humidifying nozzle features a wide spray with droplet sizes of 20-200 microns, and a flow rate of 0-15 gpm, with liquid viscosity up to 100 cPs.
No electrical connection is required at the nozzle. Vortec Spray Nozzles use 12 scfm (340 slpm) of compressed air to atomize the liquid externally to minimize clogging. Vortec spray nozzle tips are removable for easy cleaning and replacement and are interchangeable, providing flexibility between the types of nozzles.