October 19, 2017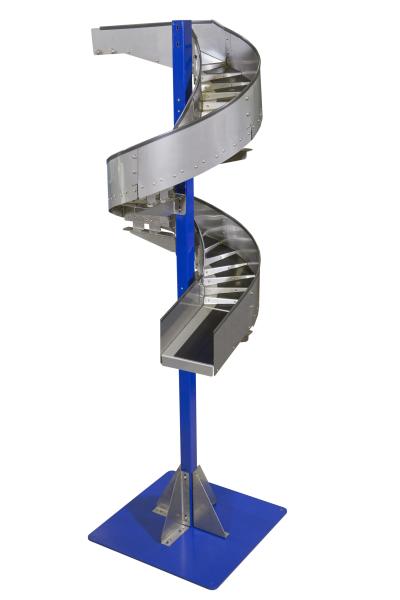 The new Spiral Chutes from Dorner are an economical way to gently move product down to a lower level … with gravity doing all the work. As product enters the Spiral Chute, gravity takes over to safely slide packages down to the lower level.
Spiral Chutes' patent-pending stair step design ensures products won't get stuck or jammed when being lowered from overhead conveyors, mezzanines or platforms. Even if packages begin to accumulate as they travel down, the Spiral Chutes' design is self-clearing to prevent jams.
Spiral Chutes are suitable for lightweight products with a variety of package types, including cardboard, pouches, flexible packaging and corrugated boxes. The stair step design allows for different sized packages (lengths as short as 3"; weights between one ounce to 50 lbs.) to be lowered at the same time for added flexibility.
Features and benefits of the new Spiral Chutes include:
o Two construction options:
o Galvanized steel with plated fasteners
o #4 polish 300 series stainless steel with stainless fasteners
o Ships assembled for fast and simple installation
o Custom infeed and exit chute locations and heights
o Clockwise or counterclockwise floor direction
o UHMW bottom liner and side wall liner
oTubular steel or stainless steel stand options
Size Specifications
o Chute widths: 8", 12", 18" and 24"
o Wall heights: 4" – 12" (depending on chute width)
o Inside radius: 5", 10" or 20" (depending on chute width)
o Maximum infeed height: 144"
o Minimum discharge height: 18"
Infeed and outfeed straight chute lengths:
o Minimum length: 0"
o Maximum length: 24"
Spiral angles:
o Minimum angle: 90°
o Angle increments: 90°
o Maximum angle: 450°
Angle of decline:
o Minimum angle: 16°
o Maximum angle: 20°