December 08, 2021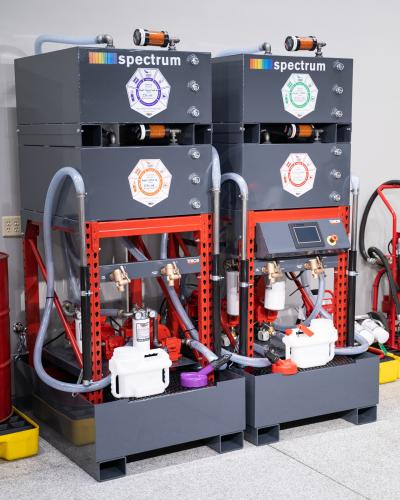 Trico Corporation, a leading provider of lubrication management solutions, announces its newly developed bulk oil storage systems for lubricant identification, storage, handling, and dispensing.
The Spectrum Bulk Oil Storage System provides a cleaner, safer, and easier alternative to 55-gallon drums for handling of lubricants. Compared to 55-gallon drums they provide efficient and clean lubricant storage and dispensing with no drum tipping, no replacement of drum pumps, and no waste.
Spectrum Bulk Oil Storage Systems are available in three unique tiers to meet specific application needs and conditioning of the lubricant. The three tiers provide complete flexibility when choosing which system is right for the application and each tier allows for future expansion, if needed.
Essential Stack – Provides a budget-friendly and space saving solution.
Performance Stack – Provides best practices in storage and dispensing of lubricants with inline filtration.
Intelligent Stack – Provides best practices in storage and dispensing with inline and kidney loop filtration. The system includes power dispense capabilities and an electronic level gauge for monitoring oil levels. The system also includes HMI touch panel for user control and real-time system status. The user-interface is self-explanatory, easy, intuitive, and requires minimum effort to make the system function.
The systems are cost-effective, frees up floor space, and are modular and expandable in design. Each stack system includes two 65-galllon powder coated steel tanks that permanently mount to a racking system. The tanks included three viewports to monitor lubricant level and inventory.
The systems come fully assembled – reducing the headaches of having to assemble large complex systems and versatile enough to be moved by forklift or hand trucks. The stand-alone construction allows for easy maneuverability within the oil storage area or at satellite locations throughout the facility.