December 10, 2022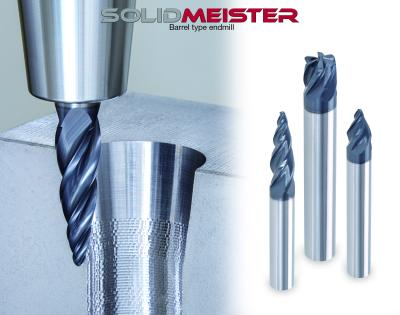 Tungaloy has introduced eight new barrel-shaped solid carbide endmills to its SolidMeister series.
The SolidMeister series offers a complete range of high-performance solid carbide square shoulder endmills, ball nose endmills, and high feed cutters to provide solutions for a broad range of applications, for rough to finish machining in any type of material, with high productivity and extended tool life.
New SolidMeister barrel endmills are efficient tools for complex 3D surfacing operations used in mold making, orthopedic implant work, and the machining of gas turbine blades and other freeform surfaces in the aerospace and energy industries. The endmills incorporate a cutting edge that is actually the segment of a large-diameter arc. Since the shape of the cutting edge resembles a barrel profile, the tool became known as barrel endmills, or in shop talk, simply as barrels. The large arc segment can significantly increase the stepover distances without degradation of the surface finish parameters, which means that the number of passes and, subsequently, machining time can be noticeably reduced.
The barrel endmills come in three different cutting edge profiles and features: the Long edge version features a large-radius cutting edge of 80 or 90 millimeters (3.150 or 3.543 inches) and is suited for semi-rough to semi-finish machining; the Short edge version incorporates an even larger cutting edge radius of 250 millimeters (9.843 inches) lending itself to machining high precision straight-walled pockets and curved surfaces; and the Lens-shaped version has a barrel-shape cutting edge on its end surface that is useful for machining details perpendicular to the spindle, such as the narrow channels of a tire mold surface.
The barrel endmills are available in AH710, an extremely wear-resistant PVD-coated grade that provide the tools with extended tool life and predictability in most material groups.
Related Glossary Terms
feed


feed

Rate of change of position of the tool as a whole, relative to the workpiece while cutting.